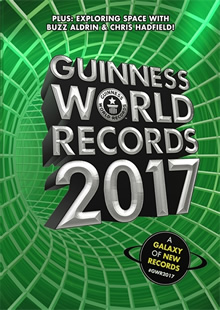 Guinness World Records 2017
The record-breaking record book is back with a fresh new design and 13 chapters containing thousands of new and updated records, awe-inspiring never-before-seen photographs and a bucketload of facts, stats, figures and trivia. Look out, too, for our all-new Factographic features and a special chapter dedicated to helping you become a record breaker…
Also available:
Guinness World Records 2017: Gamer's Edition
This is the ultimate category-killer in videogames annuals. Bursting with mindblowing records and tantalizing trivia, it's a must-have for any gaming fan. Whether you're an app aficionado, an MMO master or a die-hard retro gamer, you'll find show-stopping records, top 10 roundups, quick-fire facts and stats, and hundreds of amazing new images from all your favourite games. Find out for yourself why it's a bestseller!
ABOUT THE AUTHOR
In 1951, Sir Hugh Beaver, the then managing director of the Guinness Brewery, went on a shooting party and became involved in an argument. Which was the fastest game bird in Europe – the golden plover or the grouse? He realized then that a book supplying the answers to this sort of question might prove popular. He was right!
Sir Hugh's idea became reality when Norris and Ross McWhirter, who had been running a fact-finding agency in London, were commissioned to compile what became The Guinness Book of Records. The first edition was bound on August 27, 1955, and went to the top of the British bestseller lists by Christmas that year.
Since then, Guinness World Records™ has become a household name and the global leader in world records. No other enterprise collects, confirms, accredits and presents world record data with the same investment in comprehensiveness and authenticity.
Sydney Unleashed is one of Australia's premier entertainment publications exploring the latest in lifestyle trends. From Sydney's finest restaurants, cafes and bars to the hottest in gadgets, products, and home entertainment, Sydney Unleashed is your one-stop lifestyle platform.