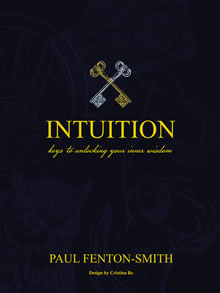 Intuition: How Psychic Are You?
"We're all born psychic, from prophetic dreams to deeper instincts, intuitive information comes in many forms. Effective intuition relies on knowing how to tune in to your abilities when you need them" says Paul Fenton-Smith.
"What's all the current Hype about Intuition?" With Matt Damon in two films about clairvoyance (Hereafter) and seeing the future (The Adjustment Bureau) is Intuition the 'New Black"?
INTUITION, Fenton-Smith's 10th book, offers a range of interesting games and exercises to help you to identify your innate psychic strengths. It also helps you to develop powerful insight as an effective tool in shaping your life.
Based on his 33 years studying and practising as a clairvoyant, Intuition unlocks ancient psychic secrets. It also includes compelling real life examples to illustrate each point.
Take the psychic quiz on page two and discover whether you are a natural clairvoyant or if you'd be better suited to practising psychometry – the sensing of energies from objects or environments.
Leading Australian designer Cristina Re has designed the stunning colour photography and easy to follow charts, making this unique book more appealing to everyone curious about intuitive development.
---
PAUL FENTON-SMITH: PROFILE

How did you get your start in the industry?
A good friend enrolled me in a palmistry course in Adelaide in 1978, mainly so that she wouldn't be mugged at night as she attended the course. I loved it and read every palmistry book I could get my hands on for years afterwards. After moving to Sydney in 1980 I saw a job advertised in the Bondi Junction job centre "Palmist wanted – experience necessary." I figured that there couldn't be too many experienced applicants and applied. I took the position and worked beside a tarot reader for 10 hours a day six days a week. Some weeks were very quiet so I taught my colleague palmistry and he taught me to read the cards.
Best part of the job?
When I'm able to give clients good news about the job, baby or home they want. In a recent instance a mother wanted a reading about her 13 year old daughter who had developed a facial tic overnight. Her school friends teased her mercilessly and her mother took her to see a doctor and two specialists, yet no one knew what was causing it. Clairvoyantly I saw that it was due to a nerve in the neck and suggested that she see a chiropractor or an osteopath. After three osteopathic sessions her daughter's symptoms had disappeared and gradually her self-confidence returned.
Worst part of the job?
This is when I have to tactfully tell clients that they won't be offered that new job or that they won't buy the house of their dreams at auction. Sometimes I don't see a new baby in the house in the coming two years and I have to be honest with the client. I don't believe in giving false hope.
Any interesting experiences you can share?
Often when a clairvoyant glimpses a scene, he or she has no concept of when it will occur. When Nikolai asked about his aged mother who was living alone in Europe, he asked because he sensed that she wasn't likely to live much longer. Fiercely independent, she flatly refused to leave her home for an aged care facility nor did she want to live with her other son Dimitri. Nikolai wanted details about when she might pass away and I described glimpsing him at her burial, standing ankle deep in snow. He nodded silently, assuming that it meant it would be in January or February, the northern hemisphere winter. He knew he'd have time to save money for the trip. She died later that year, in the last week of June. He flew home for the funeral dressed for summer and when his brother met him at the airport his first words were "Sorry about the weather. We had a freak snow storm yesterday." The country was blanketed in snow and as he stood freezing at his mother's funeral, Nikolai remembered the prediction.
Tell us about the best live show that you ever saw?
At the risk of showing my age it was Bryan Ferry fronting Roxy Music, many years ago. How can a man look so immaculately dressed and unruffled at the end of a two hour gig?
Favourite bars/clubs/pubs to hang out in?
I'm not a bar or club person but I do enjoy thetranquil water views from the balcony of the Woolwich Pier Hotel, especially over a hearty lunch and a chilled rose or a cider.
Take us through a typical "day in the life of Paul Fenton-Smith"
Three days a week I see clients and on these days I start at 12:00 noon and finish at 8:00 pm. It sounds easy but I'm often writing and doing paperwork from 9:00 am but I do have a two hour break in the middle to rest. On Thursdays I write all day and often do my re-writes on Mondays and Tuesdays. On writing days I might be focussed on a book, a correspondence course, a feature story, something for my website or writing a talk, so I'm never staring off into space in search of an idea. "Books don't write themselves" I remind myself constantly.
Any news or final comments?
I've just spent a month publicising my new book Intuition and the response has been amazing. The last three bookstores I spoke at had to re-order copies of the book before I spoke in their stores as they had sold out. This didn't happen with the previous nine books so I take this as a good sign. Now it's back to work on a book I started six months ago and an e-book of an earlier title. Being a clairvoyant I already know that I'll write 18 books, so this helps. If I don't , they'll probably bury me with a half-finished book and instructions to tap on the coffin when it is complete.
'Intuition' is available now.
Sydney Unleashed is one of Australia's premier entertainment publications exploring the latest in lifestyle trends. From Sydney's finest restaurants, cafes and bars to the hottest in gadgets, products, and home entertainment, Sydney Unleashed is your one-stop lifestyle platform.