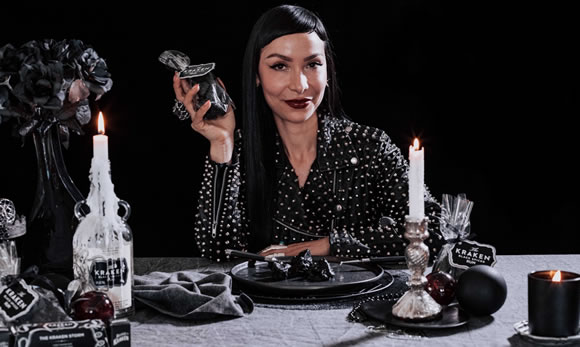 Kraken's Unconventional Christmas
It's the most rum-derful time of the year, and The Kraken Black Spiced Rum has recruited Australia's very own Sleigh-er of Sweets, Katherine Sabbath, to create a devilish dessert – edible Christmas Coal – for the darkest of souls this Christmas.
Katherine has crafted something sinister for all of the souls consumed by the Kraken. The deliciously dark 'edible coal' comes in the form of a chocolate-coated honeycomb creation, infused with The Kraken Black Spiced Rum to form the perfect stocking filler.
Katherine's unique style is perfectly paired with the unconventional spirit that is The Kraken Black Spiced Rum – famous for its distinctive flavour, imported from the Caribbean and carefully blended with a range of spices. The Kraken Black Spiced Rum is bold, rich and black, but this time not so smooth, introducing a coal-inspired crunch crafted for your not-so-loved-ones this Christmas.
Katherine Sabbath says, "I think we've all met a few people who deserve a lump of coal at Christmas. Finally, The Kraken has given me the perfect excuse to create this devilishly dark dessert". In true Sabbath style, the blackened bites are available exclusively via social media – where Katherine's baking empire began – and are for those who follow the darkness and believe in the mythical beast.
To get your hands on The Kraken's Christmas Coal baked by Katherine Sabbath keep one eye open for the 12 days of Christmas social giveaway and nominate a friend who is not-so deserving. The beast will be giving hunters the chance to get their hands on the deliciously-dark 'edible coal' via Facebook @TheKrakenRumAU.
The Kraken's Christmas Coal By Katherine Sabbath Recipe – Ingredients:
– 1 cup (235g) caster sugar
– 3/4 tsp smoked sea salt
– 1/2 cup (170g) light corn syrup or glucose syrup
– 50mls (50g) Kraken Black Spiced Rum
– 1 tsp vanilla extract
– Black food colouring gel or powder
– 1/2 teaspoon ground cinnamon
– 3 teaspoons bicarb soda
– 500g high quality dark chocolate
– 4 tsp coconut oil
– 130g Oreo biscuits, crushed
Method
1. Line a slice tray or oven dish with aluminium foil and grease with cooking oil spray.
2. In a saucepan large enough to accomodate the mixture eventually growing to 4-5 times its original size, combine the sugar, salt, and corn syrup/glucose syrup. Once boiling, add The Kraken Black Spiced Rum, vanilla, and black food colouring (until a rich black colour is achieved). Cook over medium-high heat until it reaches 'hard crack' consistency, or on a candy thermometer 145ºC – 150ºC (this should take around 10 minutes).
3. Remove the pan from the heat and immediately stir in the cinnamon and bicarb soda. The mixture will bubble up significantly! Stir until just combined, being careful not to knock out the delicious airy texture of your honeycomb coal. Gently and carefully pour into prepared tray or dish.
4. Allow the honeycomb coal to cool completely before handling (at least 1 hour). Once cooled, use a rolling pin to smash into smaller chunks, and be sure to remove any remaining aluminium foil.
5. To decorate, melt the dark chocolate and coconut oil in a heatproof bowl, using either the microwave or double-boiler method. Stir until combined, and add black food colouring until a desired shade is achieved. Mix in crushed Oreo biscuits. Dip the honeycomb pieces into the melted chocolate and allow to set on non-stick baking paper. Top honeycomb coal with extra chunks of chocolate-covered Oreo pieces if needed.
6. Store in an airtight container in a cool, dry place for up to one week.
*Kraken Christmas Coal contains dairy and gluten, and may contain traces of nuts and soy.
For those who feel like a dark twist on a traditional festive tipple, The Kraken Black Spiced Rum has these new recipes to blacken your festivities:
The Kraken Cider Crush
30ml The Kraken Black Spiced Rum
7ml Cinnamon syrup*
7ml Lemon juice
Dry cider
Combine ingredients in a mixing glass with ice and stir. Strain into a coupe, then top with cider. Garnish with a lemon wedge and cloves.
*To make cinnamon syrup: simmer a 1:1 mix of sugar and water with 4 cinnamon sticks until fragrant. Cool completely before use. Store in the fridge for up to a week.
The Black Blitzen
50ml The Kraken Black Spiced Rum
15ml Crème de cassis
7ml Lemon juice
4 – 5 Muddled blackberries
Soda water
Muddle blackberries in the bottom of a rocks glass. Combine rum, cassis and lemon in a shaker with crushed ice. Shake then pour on top of the muddled blackberries. Top with soda and garnish with blackberries.
The Black Christmas Punch
180ml The Kraken Black Spiced Rum
60ml Sweet vermouth
180ml Chai tea (brewed hot then chilled)
60ml Honey syrup (1:1 honey to water)
60ml Dark berry juice
30ml Fresh lemon juice
Combine all ingredients in punch bowl over large chunks of ice. Garnish the bowl with lemon wheels, berries, and edible flowers. Ladle into six glasses, being sure to include some of the garnishes in each serve.
The Kraken Black Spiced Rum is an imported rum from the Caribbean blended with spices. Named for the sea beast of myth and legend, The Kraken Black Spiced Rum is bold, rich, black and smooth. Note: Kraken Christmas Coal has an ABV of 0%.
Sydney Unleashed is one of Australia's premier entertainment publications exploring the latest in lifestyle trends. From Sydney's finest restaurants, cafes and bars to the hottest in gadgets, products, and home entertainment, Sydney Unleashed is your one-stop lifestyle platform.