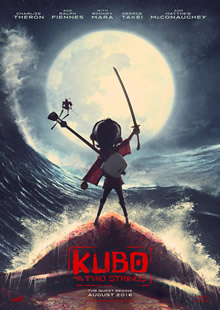 Starring: Charlize Theron, Ralph Fiennes, Matthew McConaughey, Rooney Mara, Art Parkinson (Rated PG – 100 min).
While Kubo is not a traditional Anime, realistically I have never been the biggest fan of Japanese animation on film or television. Exceptions are obvious ones in my eyes – Akira (1988), Princess Mononoke, or Perfect Blue (both 1997) among a few others. This ancient era Japan set adventure is actually made by the creative studio behind distinct films Paranorman and Coraline.
The story of young Kubo who looks after his unwell mother living quietly within a village where not much happens. Through unforeseen circumstances, Kubo is launched into a trajectory of mythology and fantasy elements entering other worldly battles leaving what is a normal, mundane life behind.
Joining him on this quest to warn off an evil spirit, known as the Moon-King (voiced with delicate nastiness from Ralph Fiennes) is Monkey and Beetle (Theron / McConaughey) traveling together in search of a magical suit or amour. It's a story told from various points of view but works wholeheartedly on separate levels jamming action theatrics with high emotion with amiable humour.
The 'two-strings' in the title has a couple of hidden meanings used as a plot driven device I won't reveal here – just look, listen and be aware of non obvious details. The A-List voice cast do exceptionally well also tweaking their natural dulcet tonal delivery to an acute medium suited to each wacky character.
After being the best part of the horrendous flop Pan, Rooney Mara in particular is a standout. She will stop at nothing to halt Kubo's quest, creepy intense sneering from her is a work of brilliance. Younger children could be affected however, I just loved her nightmarish contribution.
Laika Animation studio have an all round winner, basically a love-letter to revered anime director Miyazaki but also standing on its own unique pedestal – suitable viewing for the whole family and thankfully not a sequel or reboot. Ultimately the journey embarked by Kubo becomes one of self discovery with himself and interactions of all creatures, great and small, along the way.
Stick around during end credits for a behind-the-scenes look at how some of the production imagery was created. Just fantastic, not to be missed!
Shane A. Bassett
Sydney Unleashed is one of Australia's premier entertainment publications exploring the latest in lifestyle trends. From Sydney's finest restaurants, cafes and bars to the hottest in gadgets, products, and home entertainment, Sydney Unleashed is your one-stop lifestyle platform.