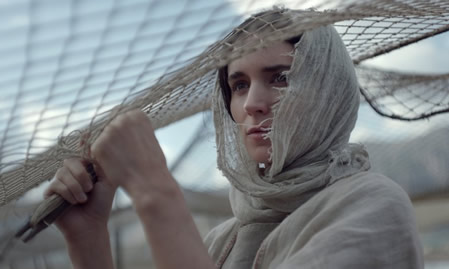 Mary Magdalene: Garth Davis Interview
Sure to stir a touch of controversy, Australian director Garth Davis follows up his six time Academy Award nominated debut feature film Lion with Mary Magdalene.
The faith-based epic includes the crucifixion he believes is the first time the real story has been told. Appropriately out in cinemas leading up to the Easter holy period, unique talented screen chameleon Rooney Mara is Mary Magdalene alongside methodical Joaquin Phoenix as Jesus.
Garth Davis discusses odd happenings on set, why he decided to shed new light on Mary, explains a little about his dealings with fallen Harvey Weinstein, and what it felt like to be in the crowd during the Oscar Best Picture mishap.
Before shooting began in Italy, did you get the set blessed?
Garth Davis – (laughs) No but I did pray to Mary a lot.
Is there a director's cameo I may have missed?
GD – Most men in Italy look like me (laughs), I didn't appear on screen.
Did you experience any divine intervention or miracles during filming?
GD – Yes when we were about to shoot the exorcism scene, the weather changed immediately and abruptly, totally in sync coming up to the camera. Wind went still, it felt like we were in a vacuum. Suddenly all this lightning was belting around us. The whole crew just stopped and looked having a moment. Quite incredible. Some people were more spiritual than others loving what happened, others quite worried
Any more incidents?
GD – Well during a rehearsal with Tahar Rahim (Judas), I wanted him to do a little ceremony in the landscape to celebrate his family not there anymore, just so he had a connection to them and the surrounding terrain. I said go find a wildflower, imagine it's the love for your family and go bury it somewhere to have your time to reflect. Off he went wandering up the hill. He found a flower but said as he was burying the flower feeling his love for the family in character, this random dog appeared licking his face. Tahar couldn't believe the dog gave love at this exact moment. We called it Goldie, then it followed us around on set on top of a mountain. After moving some 20 miles away to the next location, it was there again. Nobody brought it with them, it just turned up for the rest of the shoot wherever we went.
Describe Mary after researching her so thoroughly.
GD – Mary Magdalene, the prostitute we grew up to understand, is just not true. The Mary in our movie is a spiritual figure, leader in her own right, playing a major role in Jesus' ministry. And I think she is a woman who is incredibly courageous to have left her family to follow her calling to God. Her spiritual intuition was key, unearthing one of the great truths through unconditional love came freedom and liberty. She was really unique and a special person.
Was it a hard movie to pitch, had you run it by Rooney first?
GD – Producers and I spoke about Rooney, I had a terrific working relationship with her on Lion. It felt completely right to us so gave her a call. I think she was pretty terrified I was doing a religious movie. Every now and then, you connect with a human being where you get each other. So once she knew it was more of a spiritual journey than a religious film, knowing where we were going to take it, she was excited.
I love Rooney Mara, I think she's fantastic ever since Youth in Revolt.
GD – Beautiful isn't she – a great, genuine person. She would love you, your mannerisms and your way of interviewing.
Did you feel extra pressure directing a faith-based film?
GD – Not really, there is always some pressure anyway, pre-production, but once on set, all felt committed to our choices. The Crucifixion of course was monumental, huge responsibility so had to be extremely focussed on why were were there and how we handled it. The final scene was an amazing moment as (it) had never been told before. I felt trepidation, excitement within about doing that scene.
What about expectation following up the Oscar nominated Lion?
GD – Must say I did feel some outside pressure, very quickly people seem to pigeonhole you thinking they know what's next. Maybe some were surprised I was keen on a Mary Magdalene project. There is a little second movie pressure, not from myself. I feel like I am doing what I've always done with Top of the Lake and my film Lion, always trying to make deeply profound content.
If an audience is not familiar with the faith-based story you have made, describe it to someone interested to go see it.
GD – Absolutely see it with an open mind. In the same way, I am attracted to religious movies because I have a curiosity. This is much more relatable and a great, even amazing, sweeping cinema experience. Will connect with you as a human regardless of your faith. I want the audience to get into the film, get under the skin of the characters.
Joaquin Phoenix comes across as a method actor, is he?
GD – I'd certainly say he's method, very hard to say just one thing about his style. He tunes into a space, does not snap out of moments as to find something extraordinarily authentic. He fights his way out of a scene to huge effect in the performance realism. He's such a peculiar amazing actor, he has his process for sure. Also very friendly to everyone, thankful to the driver or doorman, whomever it may be. He has an emotional sensitivity making him so beautiful on screen. Actually he's generous too and hilarious, a man of many traits.
Directing him, did you let him go or have to coerce?
GD – Couple of times I had to push him to get him somewhere but the rest of the time was, he couldn't sense you coming in on him. I allowed him to be free slowing creating the surrounds. Often it was who you put opposite him and what they were doing. During the healing scene, I cast really interesting people who had reality about them as they sat down opposite engaging with them with compassion, that's when Joaquin flew.
Costume designer Jacqueline Durran did a magnificent job.
GD – She is unbelievable, Rooney really loved her. I wanted her for my movie so I was so happy when she finally committed to the project. In our first meeting, she had already triggered the process finding women in all corners of the globe doing the ancient stitching craft. She had a way that they would do embroideries that would come back to be put onto the fabric. All that detail there (Garth points to the movie poster on an axel next to us) is done by hand done in the 'old way'. Jacq did intense research although I gave a tiny bit of input. Mostly I was brought to tears with her efforts.
You were in the audience for the Oscars mishap of 2017.
GD – Sitting six rows from the front directly in the middle. During the campaign, you feel a deep affection for everyone. Comrades in arms with all our films in the mix, you meet all the other filmmakers. I had respect for them all, it's not a competition. The night was going so well, energetic, entertaining until this devastating disaster happened, I felt for all of them. The cameras turned off, everyone was leaving the auditorium like a funeral in silence.
Disgraced Harvey Weinstein was behind the campaign of Lion.
GD – Fulfilled his mythical vision as a huge stature of a man. He was very passionate, a massive intimidating presence, direct. When in a meeting with him, you felt alive and vulnerable. He loved Lion so I had a good experience with him but there were times where if he wanted me to do things, he came across very convincing. Was a very powerful man.
Was releasing Mary Magdalene for Easter a long-term thought and should wine be drunk in the theatre while watching?
GD – (laughs) Yes why not, I would. It was a strategy from the studios for sure coming into a holy period. A definite sweet spot for the movie
MARY MAGDALENE (Rated M 120 min)
IN CINEMAS MARCH 22 
Shane A. Bassett
Sydney Unleashed is one of Australia's premier entertainment publications exploring the latest in lifestyle trends. From Sydney's finest restaurants, cafes and bars to the hottest in gadgets, products, and home entertainment, Sydney Unleashed is your one-stop lifestyle platform.