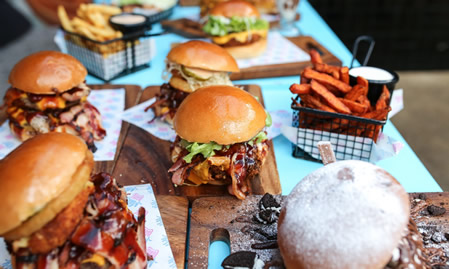 Milky Lane opens in Coogee
Rapidly-expanding uber burger franchise, Milky Lane, is on a steep trajectory having just opened in Coogee. Growing demand, both locally and overseas, has seen them develop at an impressive rate since opening its first restaurant only three years ago. The chain now boasts franchises across Sydney and the Gold Coast, with more locations to open by Christmas 2018, including the new addition at 224 Coogee Bay Road.
Milky Lane is the brainchild of four boys from Bondi – Peter Haselhurst, Christian Avant, Scott Findlay and Patrick Killalea – who have realised their dream of supercharging the nostalgic milk bar to create a unique destination, where the perfect curation of food, music and art creates a sensory utopia for one and all.
The dream was also about bringing a sense of fun and creating a food experience which engages the senses, explains Managing Director, Pete Haselhurst. "Milky Lane is the antidote to how serious the business of food has become. That's not to say we're not serious about our burger game. We are deadly serious. But we're also focused on bringing the fun back to food, for diners who value experience," said Haselhurst.
The Milky Lane food philosophy is to continually innovate and bring diners new flavours and trends from around the world, and then completely load them, as only Milky Lane can. Famous for its super-sized, indulgent juicy burgers, moreish desserts and tasty cocktails, Australia's uber burger joint, Milky Lane's reputation has attracted attention of the international celebrity kind, with the restaurant group boasting visits from the likes of Ed Sheeran, Post Malone, Sean Kingston and lil Bow Wow. The 'last supper mural' art from their Bondi restaurant has even been reposted by Snoop Dogg.
The celebrity connection is deep-rooted. Prior to opening Milky Lane, chefs Scott Findlay and Patrick Killalea were chefs to major international celebrities, including Madonna, Paul McCartney, Kanye West and Pink. "We're most proud of the diverse audience we attract at Milky Lane – spanning international celebrities to locals and those who travel from afar is because Milky Lane is a place where everyone is welcome. It's an escape from the everyday chorus of 'should' – it's a destination of 'could and would' – where food is supersized and full of cheat, the tunes are infectious, and the shakes are fuelled", said Haselhurst.
Each of Milky Lane's perfectly structured burgers are a juicy, explosion of joy, exuding tasty succulence. Most popular burgers include the BIG POPPA – Wagyu beef patty, Texan rub smoked beef brisket, maple smoked bacon, mac & cheese patty, American cheddar, onions rings, pickles, BBQ sauce, mustard, Milky Lane special sauce & ML ketchup.
The CHIC-KANYE boasts Crispy southern fried chicken, maple smoked bacon, American high melt cheese, Carolina slaw, lettuce, BBQ sauce, habanero aioli and pineapple relish. Add mouth-watering, indulgent desserts such as the churros bowl or Nutella cheesecake, paired with tantalising cocktails, and you're cooked.
Milky Lane Locations:
Bondi – 141 Curlewis St, Bondi Beach, NSW, 2026
Cronulla – Shop 7&8, 20 Gerrale St, Cronulla, NSW, 2230
Paramatta – 20-22 Macquarie St, Parramatta, NSW, 2150
Surfers Paradise – 1/38 Cavill Ave, Surfers Paradise, QLD, 4217
Coogee Beach – 224 Coogee Bay Road, Coogee Beach, NSW, 2034
Sydney Unleashed is one of Australia's premier entertainment publications exploring the latest in lifestyle trends. From Sydney's finest restaurants, cafes and bars to the hottest in gadgets, products, and home entertainment, Sydney Unleashed is your one-stop lifestyle platform.