My Muscle Chef introduces new soup category to menu
My Muscle Chef (MYMC), Australia's leading functional food and beverage company that supports every body and every goal, have announced the addition of a new Soups category and larger sized meals called PLUS+ Meals, as well as a selection of new meals to its core menu.
"At My Muscle Chef we aim to deliver more convenient and fresh meal options, giving our customers greater choice to meet and achieve their nutritional goals," said Tushar Menon, CEO & co-founder at My Muscle Chef. "Listening to our customers and innovating to meet their needs is at the core of our business. That's why we're excited to introduce our new Soups category, providing delicious new options for the colder months, and our new PLUS+ Meals which came off the back of consistent feedback from consumers asking for larger portions."
For the first time MYMC is introducing a range of healthy, hearty and wholesome Soups to get customers through winter and beyond. Packed full of protein and fibre, yet low in fat, the Soups provide warmth whilst supplying essential nutrients. The range of Soups includes five delicious chef-curated flavours, with both meat and vegetarian options. The Soups are available to order online directly from https://mymusclechef.com or the company's iOS and Android apps.
"We've introduced soups for the first time to our lineup as customers have told us that during the colder months they are looking for a great tasting, hearty and nutritious meal to warm their insides," said Rhiannon Purrer, Brand Manager at My Muscle Chef. "Just like our fresh ready-made meals, our new Soups range contains wholesome and fresh ingredients, packed with high protein and fibre to meet nutritional needs."
In addition to the soups, MYMC has also introduced PLUS+ Meals to its offering, delivering an increase in portions, calories and protein to satisfy consumers for longer. The new category includes two options to help consumers meet their intake requirements, PLUS+ Meals offers 50 percent bigger meals and PLUS+ Protein gives consumers the option to add more protein to their normal-sized meals.
"Our new PLUS+ Meals range gives customers the option to boost their energy, protein and calorie intake if they're working or training harder on particular days whilst ensuring their bodies are fuelled with the same wholesome quality ingredients found in our regular meals," said Ryan Pinto, Advanced Sports Dietician at My Muscle Chef. "With a 50 per cent increase in size and 50 per cent more in protein, nutrition and calories, customers will have more energy to tackle the day and stay satisfied for longer."
Furthermore, MYMC has launched five new meals in June, offering consumers even more choices to achieve their goals. Inspired from a range of international cuisines, the new options are complementary to the winter season and are packed with flavour, protein and fresh vegetables, including one new plant-based option.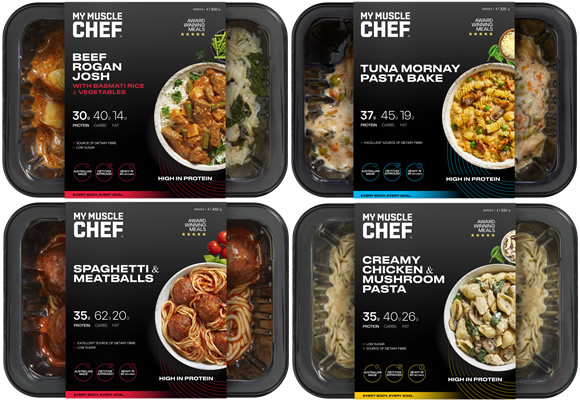 AVAILABLE NOW:
Individual Soups – Flavours available include Chicken and Vegetable Soup, Chicken Thai Red Curry Soup, Chicken Minestrone Soup, Spiced Pumpkin & Split Pea Soup, Tomato and Basil Soup (RRP $6.95).
Soups Pack – Containing 5 Soups, 1 x each flavour (RRP $27.95).
Individual PLUS+ Meals – Flavours available include Beef Stroganoff with Spinach Fettuccine, Chicken Tortellini Boscaiola with Beef Rashers, Creamy Tomato Chicken Fettuccine, Pesto Chicken with Penne Pasta & Green Vegetables, Spicy Buffalo Chicken with Mac & Cheese (RRP $13.95).
Individual PLUS+ Protein – Flavours available include Chipotle Chicken, Lemon Pepper Chicken, Butter Chicken, Pulled Beef (RRP $10.95 – $12.95).
Individual June New Meals – Flavours available include Beef Rogan Josh with Basmati Rice & Vegetables, Lentil Dahl with Basmati Rice, Spiced Potato & Cauliflower, Creamy Chicken & Mushroom Pasta, Tuna Mornay Pasta Bake, Spaghetti & Meatballs (RRP $9.99 – $10.95).
The new MYMC PLUS+ Meals and new June meals are all available to purchase online at mymusclechef.com, via the MYMC App, and in selected retail stores.
Sydney Unleashed is one of Australia's premier entertainment publications exploring the latest in lifestyle trends. From Sydney's finest restaurants, cafes and bars to the hottest in gadgets, products, and home entertainment, Sydney Unleashed is your one-stop lifestyle platform.