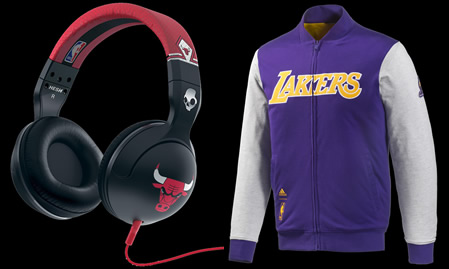 NBA Online Store Launched
The National Basketball Association (NBA) and Velocity Brand Management Retail (VBMR) have announced the launch of NBAStore.com.au and NBAStore.co.nz, the first official NBA online stores in Australia and New Zealand respectively. The online destinations will give local fans quick and easy access to official NBA-branded merchandise.
VBMR is a business that focuses on the retail sector for official sporting federations with a staff of experts in online retailing, venue merchandising and manufacturing and specializes in selling official licensed product.
Through this partnership, NBA Stores online destinations in Australia and New Zealand will feature comprehensive assortments of NBA merchandise, including the latest performance and lifestyle apparel by adidas – the official outfitter of the NBA. Additionally, NBAStore.com.au and NBAStore.co.nz offer a variety of NBA merchandise including, bags, collectibles, headwear, and Spalding basketballs, the official game ball of the NBA. The sites will continue to introduce new features, such as the opportunity to personalize official league jerseys for all 30 teams.
NBAStore.com.au and NBAStore.co.nz have been optimized to offer enhanced product views to show specific design details and navigation features, allowing fans to search for items by team or product category across a range of mobile, tablet and personal computing devices. VBMR, through its partnership with Australia's and New Zealand's sports retailer Rebel Sport will also help deliver new and exciting retail programs for NBA fans.
"VBMR is thrilled with the opportunity of representing NBA's online retail programs in Australia and New Zealand," said David Tucker, CEO of VBMR. "The NBA is one of the world's leading sporting organizations and the opportunity to partner with them represents another step in the strong growth of VBMR in recent times."
"We have seen a growing number of NBA players from Australia and New Zealand, and fans in both countries are excited to show their support for these players and their teams," said Geraldine Pamphile, Vice President of Global Media Distribution and Global Merchandising Group, NBA Asia. "Australia is one of the largest international markets in the world for NBA merchandise sales, subscriptions to NBA League
Pass and volume of traffic to NBA.com, so it is a natural step for us to partner with an established company like VBMR to offer our fan base even more access to the NBA."
NBAStore.com.au and NBAStore.co.nz mark the NBA's sixth and seventh official international online stores, with the league generating more than 30 percent of its merchandise sales outside the United States. NBAStore.in launched in May 2014 for India, NBATienda.com became the official online store in Mexico in 2013 and LojaNBA.com became the official online store for Brazil in 2012. NBAStore.eu is the official online store for Europe, the Middle East, and Africa, while NBA.tmall.com currently serves the fans in China.
Sydney Unleashed is one of Australia's premier entertainment publications exploring the latest in lifestyle trends. From Sydney's finest restaurants, cafes and bars to the hottest in gadgets, products, and home entertainment, Sydney Unleashed is your one-stop lifestyle platform.