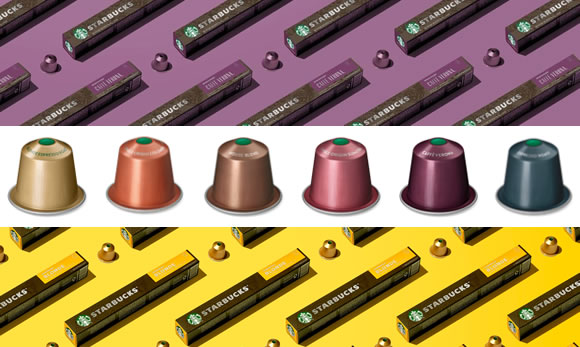 Nestlé introduces new Starbucks by Nespresso Coffee Capsules Range
Nestlé have announced the launch of a new range of Starbucks coffee capsules. These are the first Starbucks coffee products developed using Nespresso proprietary coffee and system technology and consist of six signature flavours that consumers can enjoy in the comfort of their own home.
The launch comes after Nestlé and Starbucks joined forces to create a global coffee alliance in August last year. With the launch of the new Starbucks by Nespresso range, coffee lovers will be able to access those premium and exciting coffee products from their local supermarket.
Nestlé Oceania Director of e-Business, Strategy and Marketing, Martin Brown said: "We are proud to be working with Starbucks, a global coffee brand that shares our passion for quality coffee and craftsmanship, to offer coffee drinkers an at-home solution that meets their discerning quality expectations whilst being conveniently accessible at their local supermarket."
The new range of Starbucks by Nespresso capsules combine Nestlé's coffee and system know-how with the Starbucks' unique coffee flavours and house blends. The range includes six signature flavours, ranging from Starbucks blends and single-origin coffees, all made from 100% high-quality arabica coffee, ethically sourced from farmers in the world's premier coffee-growing regions.
The coffees, listed in order of intensity, are:
– Starbucks® Blonde Espresso Roast (Intensity: 6) – A balanced light roast of Latin American coffee beans that has vibrant, sweet notes.
– Starbucks® Single-Origin Colombia (Intensity: 7) – A single-origin medium roast with round, juicy flavours and a signature nutty finish.
– Starbucks® House Blend Lungo (Intensity: 8) – A balanced medium roast with notes of cocoa, chestnuts and just a hint of sweetness – perfect for those that enjoy a longer cup of coffee.
– Starbucks® Single-Origin Sumatra (Intensity: 10) – A full-bodied dark roast sourced from the Indonesian islands, known for its earthy, spicy flavours.
– Starbucks® Caffé Verona (Intensity: 10) – An intense dark roast with a sweet, cocoa aroma named after the Italian coffee capital.
– Starbucks® Espresso Roast (Intensity: 11) – A rich, dark roast that balances bold flavour with the sweet caramel notes.
The Starbucks by Nespresso range is available now.
Sydney Unleashed is one of Australia's premier entertainment publications exploring the latest in lifestyle trends. From Sydney's finest restaurants, cafes and bars to the hottest in gadgets, products, and home entertainment, Sydney Unleashed is your one-stop lifestyle platform.