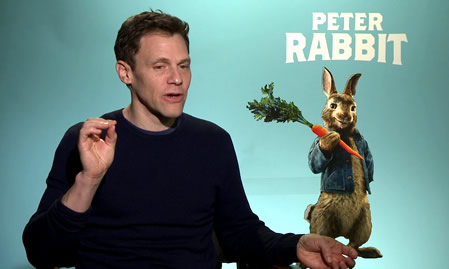 Peter Rabbit: Interview with Director Will Gluck
Comedy is hard to crack. For every good one, there are several ordinary, unfunny or mediocre attempts. Director Will Gluck has yet to have a miss. From underrated boys at cheerleading camp romp Fired Up, to instant retro infused romance Easy A, uneqivical sex romp Friends with Benefits, to the short-lived but high energy Michael J. Fox show. Heck, even neglected musical remake Annie had its 'Gluck' moments of joy (in my opinion). Diving into the wonderful world of Beatrix Potter, a sneering protective fan base were abrupt with tepid fear on this hybrid animation/live action version of Peter Rabbit. Alas, it's a hit and brilliant.
Is there a walk on or director's cameo I may have missed?
Will Gluck – No but I always put my father in a speaking role in all my films. And my kids, I just film them as extras in my films because they are the world's most expensive home movies. Done that all along for years.
Did you come in under budget?
WG – (laughs) What a weird question, I'll pretend I am an Australian politician and say yes!
Craft services, were there plenty of carrots or celery on hand?
WG – (laughs) Plenty of carrots or celery but left uneaten. Crew preferred meat pies.
Is Beatrix Potter part of historic pop culture?
WG – It's often an interesting relationship with Beatrix Potter. People who know it have an obsession with it, grew up reading the books as I did and loved them. The tie to it is nostalgia, you instantly feel like re-reading or watching films. It's something people are fond of or protective. So if anyone wants to do something new on Beatrix Potter, it's almost like an attack on their childhood that's so well loved.
Was there resistance to obtaining rights or how did you pitch the film?
WG – We went directly to the Potter estate and Penguin (books) first pitched my idea then sent over script. Every step of the way they had consulting rights, gave advice on character design, we did it all in unison. The film would not have happened without rights so I'm excited we could all do it justice.
Was it always a mix of live action with animation?
WG – Yes from the beginning, Animal Logic based in Sydney, are one of the best visual effects houses in the world and their idea to do hybrid.
Harder to direct the mix as opposed to straight live action?
WG – Much harder yes, double the pain (laughs). Making the movie actors act against things that aren't there but once we started putting in animation, it became limitless. It became like an all you can eat buffet, knowing when to stop is key.
Was filming in Australia and London a process of location elimination?
WG – We always intended to film a bunch nearby Animal Logic, then off to London.
Your favourite character within the film?
WG – Of course Peter Rabbit. While one we created, The Rooster, I love.
Any voice cast you wanted but couldn't get?
WG – Honestly, because everyone has such an appreciation of Beatrix Potter, everyone we approached from the live actors to voices all signed on quickly.
James was always going to be Peter, I enjoyed him in One Chance.
WG – No question, we met in 2011. Always wanted to work with him, he's a really good actor and it was perfect to do between his show.
Good comedy is rare (I believe he has yet to make a below average film). What's your approach to nailing it, writing or directing?
WG – My secret, I don't know (laughs), don't read reviews! Whatever feels right to me or the actors on the day, it's either it is or isn't. I like to do this so I give everything. I believe I am a collaborative director but you may have to ask others to confirm (laughs).
When an actor is in a soundbooth recording, do you still direct or let the talent riff or go for it off script?
WG – Constantly changed things, I played the other parts to assist. We would change scenes completely then I'd call the animation company because the entire dynamic may have evolved.
Who was the most enthusiastic on set who just couldn't wait to go?
WG – (laughs) Domhnall Gleeson, it was a long hard shoot for him because he did most of the physical stuff himself in 38 degrees celcius in Sydney, but he never complained while squeezing every inch of comedy he could out of it. The good thing about Domhnall, he comes from a good place so everything he did had to make sense plus be fun.
Which Australian in particular did you enjoy working with?
WG – Rose Byrne is great, my second time working with her, I love Rose.
Have you thought of revisiting Easy A, or another retro-inspired story?
WG – Yes, although I never have any grand plan in my career, just do what i like. Maybe I will as I loved everything about Easy A.
You created the underrated Michael J. Fox show, tell me about MJF.
WG – He's exactly who you think he is, genuinely one of the greatest people I've ever worked with. Doesn't let his condition slow him down at all. It was one of the most fulfilling professional experiences making that show.
Julia Goglia, she's lovely, will you work with her again?
WG – (laughs) What a deep dive on my career, absolutely! I just saw her the other day. She was only a little kid in Fired Up and now she's a young woman at college, she's awesome.
How would Beatrix respond to your technical acute version of her beloved story?
WG – The answer I am giving is I hope she'd like it. No idea on her response but I know there is a range of people out there who claim to be experts on how she would respond, I'll leave it to them.
*Later that afternoon at the green carpet premiere, I caught up with Will briefly.
Nice to see you again so soon, was I your best interview across the entire press day?
WG – Yes you were, I sat down with Margot (Robbie) & Elizabeth (DeBicki) – we talked about you because of the fun. They were talking about their best interview and I said Shane was more interesting to me than anyone else.
What was your inspiration in the beginning – to write or direct?
WG – At a young age, I knew I could get away with things (laughs). I don't want my daughter to hear this (his daughter was actually standing nearby). By being funny or writing stuff or making things, I could stretch limits. In college I realised I could make a living out of it.
Shane A. Bassett
Sydney Unleashed is one of Australia's premier entertainment publications exploring the latest in lifestyle trends. From Sydney's finest restaurants, cafes and bars to the hottest in gadgets, products, and home entertainment, Sydney Unleashed is your one-stop lifestyle platform.