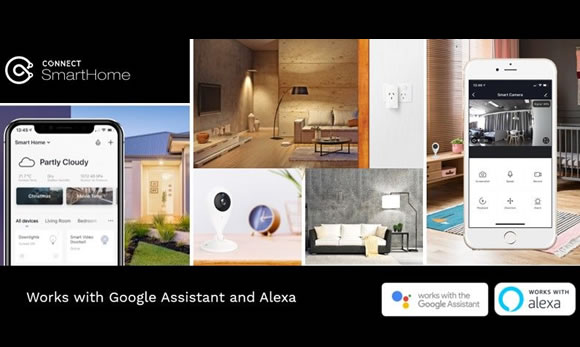 Sub-$100 Smart Home with Laser CONNECT SmartHome Range
LASER, Australia's home-grown consumer electronics success story, has announced significant price reductions across its CONNECT SmartHome range, spearheaded by a range of $10 Smart Light Bulbs. Such reductions come off the back of an incredibly successful period since the range launched exclusively into Harvey Norman in late 2019, and breaks new ground for affordability in connected devices for Australian consumers.
It is the first time in Australia that Smart Light Bulbs will be available at the everyday pricing of $10, putting this technology in the same price bracket as non-Smart lightbulbs while delivering significantly more functional benefits. Alongside this price breakthrough is a Smart Wi-Fi Plug which will now be $18, and a Smart Indoor Security Camera at $39.
Compatible with Google Home and Amazon Alexa, users can control the range via voice command or as standalone products controlled via the CONNECT SmartHome app (Android/iOS). As these smart speakers also become more affordable with multiple options available for $50-$60, today's news also delivers Australians the ability to package a smart speaker with a cross-section of smart lighting and smart Wi-Fi plugs to deliver a voice-enabled smart home for less than $100.
Sales data from LASER and Harvey Norman clearly shows that consumers are choosing smart light bulbs and smart plugs as their first purchases in their smart home journey. The pricing announcement further breaks down any remaining barriers to adoption of connected devices and provides an unprecedented opportunity to cost-efficiently embrace easy to install, modular options that can be incorporated into people's daily lives with or without a smart speaker.
As the cooler weather prevails, these products can combine to deliver a wide range of benefits around convenience, warmth, and safety. From turning on your lights as you come home from work via the smartphone app, pre-heating your winter blanket, controlling your slow-cooker during the day from wherever you may be, or turning off the lights with a simple voice-command once you are already wrapped up warm in bed, these smart devices can be tailored to the specific needs and desires of each household.
Pricing for the full CONNECT SmartHome range has been reduced across the board, and includes smart doorbells, indoor and outdoor cameras, other lighting options including strip lighting, and a range of smart power options.
The range is Google-licensed, ensuring no interruptions after updates, while full compliance with Australian Standards and Regulations, replacement warranty and local customer support ensures consumers can get the best in affordable technology knowing it is fully supported and compliant locally.
"As a proud and well-established Australian company, we are well positioned to service this category, challenge existing pricing structures, and provide customers with affordable options in creating their connected home, often for the very first time. In under a year, CONNECT has become a key driver of the smart home categories through our partnership with Harvey Norman, and today's price reductions will only continue our drive to make this technology as accessible to as many people as possible." said Managing Director Chris Lau.
CONNECT SmartHome Everyday Product Range
CONNECT SmartHome – Smart White LED Light Bulbs: CONNECT SmartHome's range of everyday Smart White LED Light Bulbs offer a range of smart lighting options to cover Australian households. Available in 10W and 5W options across B22, E27 and E14 fittings, the White bulb allows you to control the warm vs cool white balance of the globe to suit the mood or occasion. The globes can be switched on/off, dimmed or scheduled using the free CONNECT SmartHome App or on any compatible smart device. CONNECT Smart 10W B22 White LED Light Bulb (RRP: $10), CONNECT Smart 10W E27 White LED Light Bulb (RRP: $10) and CONNECT Smart 5W E14 White LED Bulb (RRP: $10).
CONNECT SmartHome – Smart Wi-Fi Plug: A handy addition to your automated home system, the CONNECT Smart Wi-Fi Plug with Dual USB Charging Port gives you optimum control in managing your plugged device or appliance even when you are away. It has a straightforward, low-profile design with short circuit and surge protection, for ease of use, safety and seamless blending in with your home's aesthetic. CONNECT Smart Wi-Fi Plug with 2 x USB (RRP: $18).
CONNECT SmartHome – Indoor Security Camera: With its compact and discrete design, the Connect Smart Security Camera is a great centrepiece for your surveillance system at home or in the office. Complete with motion detection, pan and tilt abilities and night vision, the camera is designed to be the perfect indoor, peace-of-mind device. This smart camera features 720p HD image resolution, two-way audio and supports MicroSD cards up to 64gb. CONNECT Smart Indoor Security Camera (RRP $39).
Sydney Unleashed is one of Australia's premier entertainment publications exploring the latest in lifestyle trends. From Sydney's finest restaurants, cafes and bars to the hottest in gadgets, products, and home entertainment, Sydney Unleashed is your one-stop lifestyle platform.