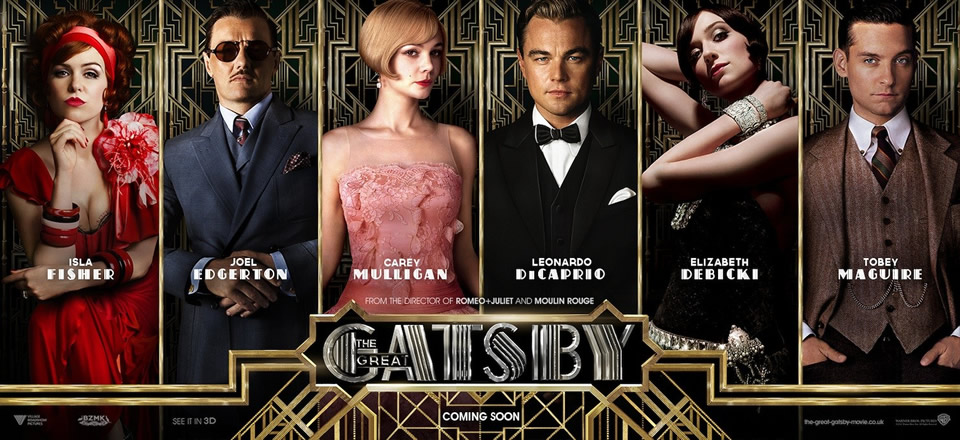 The Great Gatsby Premiere
The rain bucketed down for the glittering Australian premiere of The Great Gatsby but that didn't stop the stars from walking the red carpet at Fox Studios. The actors had not long arrived from Cannes, seemingly holding up well considering the obvious jet-lag.
First up, Oscar-winning designer and producer, Catherine Martin.
Shane A. Bassett – Standing in the rain with Catherine Martin, I never thought I would say that.
Your relationship with Baz (Luhrmann) on the set seems to flow even though you are married, is that true?
C.M – That is one of the joys of working with him, he will always entertain anyone's opinion. He'll ask everyone who sees his work what they think or what they understood. After every pre-screening we always have very open discussions. Unlike a lot of directors, he embraces previews to audiences as he likes to know what they are thinking. But ultimately, you can never second guess Baz, even though i am involved in virtually every frame of the film all the way, when i first see it all put together i am always surprised. I think he is very much his own person, his work will always have the Baz thumbprint on it.
S.A.B – Not just the clothes you designed, but the recreation of the New York Plaza hotel suite was remarkable, the details immaculate, how hard was that to do?
C.M – It was a process of research, finding out what the Plaza looked like which is very different to how we articulated the Plaza. In 1923 it had gone through an enormous renovation, it was primarily white and gold. Baz felt that it would relate to the Buchanan salon that you see at the beginning of the film. It wouldn't be as oppressive in what we wanted, so there is another spot in the Plaza called the Oak Room which was an actual watering hole of author Fitzgerald's, it is all wood panelled as the name of the room suggests, so we used that as a much darker environment.
Director Baz Lurhmann in a white suit approaches me with a smile and a handshake.
S.A.B – When do you start an idea of doing Great Gatsby in 3D as it would be such a huge risk?
B.L – You're right, it is a big risk. Fitzgerald was into new techniques and then I saw Dial M for Murder, the 1950's Hitchcock film in 3D, it was just scratching the surface of 3D. In my film, when you first see Leonardo, Tobey, Joel and Carey as actors in a room acting in 3D, the immersion is really quite thrilling. I recommend people see it in 3D as it's not only about the effects, but being really close to those actors.
S.A.B – Being such an iconic Australian film director, what do you think the forecast is for the Australian film industry?
B.L – I think there is no reason why we can't continue to grow, we are very well situated to Asia where film production is exploding. It's a filmmaker's paradise and like us, they care about creativity. Having Gatsby received at the box office so well in the US is also satisfying for my Australian-made production.
S.A.B – You brought the rain with you from Cannes.
B.L – I bring the rain with me from everywhere man, I went out to the desert to shoot Australia (2008) and it rained for the first time in 200 years. If you got a garden that needs watering, invite me over.
S.A.B – As all your films are a labour of love, did you direct differently because it was in 3D?
B.L – Not really, I was surprised how simple I found it. I had a great young stereography guy who knew a lot, but it wasn't all that difficult or different at all.
Towering above every one else holding her own clear umbrella looking beautiful, relative newcomer Elizabeth DeBicki (who played Jordan) reaches out with her hand greeting me with a smile.
E.D – Lovely to meet you Shane.
S.A.B – A great pleasure to meet you too. How does it feel to steal every scene you're in as far as I'm concerned.
E.D – Oh, I haven't felt that but that's very flattering.
S.A.B – I'm sure you were excited when you first found out you had the role. However what was it like the very first day on set?
E.D – Crazy, really overwhelming. The first scene we shot was the party scene or more accurately, the entrance into the party scene so there wasn't a lot of acting going on, just fun. It was an amazing job just to be around actors of that caliber while working with Baz was more overwhelming, exciting and terrifying all in one.
S.A.B – Did you bring any personal traits to Jordan?
E.D – You know she is such a dishonest, reckless person. I would hope there is not a lot of Jordan in me but there probably is. She is quite nomadic and independent so that's maybe a bit of me in there.
S.A.B – The jet black bob hairstyle suits you in the film (in front of me, she has flowing blonde hair).
E.D – Why thank you, I liked it too. I might get it again one day.
Next dashing over the slippery puddle forming carpet was Joel Edgerton, recently seen in Zero Dark Thirty & Warrior. One of his first films was with Halle Berry in Race the Sun.
S.A.B – G'day Joel, did you introduce any of your American co-stars to Australian customs during the shoot?
J.E – I didn't want to corrupt them, I guess I kind of acted like a guide at times but they all found their own way.  Baz has people there to help the social environment to get people accustomed to Sydney. It almost worried me to be the guide actually.
S.A.B – You play Tom Buchanan, a very important role, how did you approach it?
J.E – I read the book. Fitzgerald wrote a fantastic character and I got to play that character so it had nothing to do with me. He tells you everything you need to know about the character in the book
S.A.B – Did you do any background research for the role?
J.E – I didn't have to, all that research gets thrown at you. Baz and Catherine create a world that is full, it's like they bring the library to you if you choose to participate.
S.A.B – You have come a long way since Race the Sun by the way. (Joel laughs and looks at me as if to say how does he know that film) As Tom, you're sporting a magnificent moustache, did you feel more in character after growing it.
J.E – The moustache is a tiny part of it, the clothing, the sets, the world of the book came to life creating a time capsule for everybody. The moustache is just something I stole from Clarke Gable.
S.A.B – You showed range as Tom. In fact, I did not know whether to like you or not.
J.E – You're supposed to not like Tom, that's the design of the movie. You're being told the story through Nick's eyes (Tobey Maguire) and Nick doesn't like Tom. Fitzgerald never liked guys like Tom, it was a delectable feeling playing Tom. Cheers mate, thanks Shane.
For an extremely brief moment, Tobey Maguire stepped my way until a down pour made the gusts scatter. I managed one question.
S.A.B – Did you enjoy working with Baz for the first time?
T.M – Years ago, I auditioned for him for an hour for a role I did not get but always had wanted to work with him since. A Baz environment is a fun eventful set.
Just before I speak to British actress Carey Mulligan who plays the pivotal role of Daisy, one of the judges on The Voice Australia, singer Delta Goodrem, says hi.
S.A.B – Hey Delta, I'm a bit wet so excuse my chattering teeth. You have done a bit of acting in the past (TV show, Neighbours and feature film, Hating Alison Ashley)
D.G – You know music has consumed my world for the last thirteen years, I haven't really got back into it but I do hope one day the right thing comes along. I do miss it and enjoyed it immensely. I still have my Logie (Aussie equivalent of Emmy) at home (laughing out loud). I'm not sure it was my best acting though.
S.A.B – Your movie was good though.
D.G – Thanks, I was still a kid. I was only 18 or 19, now I'm doing the Voice, mentoring all these kids forgetting I was that young starting out too.
S.A.B – Are you a fan of Baz Lurhmann films.
D.G – More than a fan, I own all of them on DVD. Romeo & Juliet is my favourite.
Carey Mulligan comes by (pausing to put on a black jacket over her strapless dress, it was very cold)
S.A.B – Hi I'm Shane, I was wondering how long you could handle it before you covered up. I can hardly see you through all the water drops on my glasses.
Carey Mulligan – I know, it's wet alright.
S.A.B – Congratulations on your past Oscar nomination, I'm sure that will not be the only one you have in the future.
C.M – That's nice, thank you.
S.A.B – Are you going to release an album of songs soon, after hearing you sing in Shame, i think you could.
C.M – So kind, no I won't be (laughing) but it's been really fun to do in a couple of films.
S.A.B – I know the atmosphere and wearing those costumes must have been fun, but your role has an impact. Was it fun and serious?
C.M – Yes it was great. Daisy is such an erratic character which is always fun to play. I had an incredible cast to work with, I felt really really lucky and I loved it.
S.A.B – Did you have a favourite location shooting around Sydney?
C.M – I guess right here, Fox Studios as it is where I came to work every single day. The sets were incredible that made me feel like we were in a different place.
S.A.B – Your favourite part of the film.
C.M – All the scenes I am not in. I loved all the work that my Wall Street 2 co star Jason Clarke did and Joel Edgerton. It was incredible to watch two actors like that in such meaty scenes having a go.
The Great Gatsby is in cinemas now.
© Shane A. Bassett
Sydney Unleashed is one of Australia's premier entertainment publications exploring the latest in lifestyle trends. From Sydney's finest restaurants, cafes and bars to the hottest in gadgets, products, and home entertainment, Sydney Unleashed is your one-stop lifestyle platform.