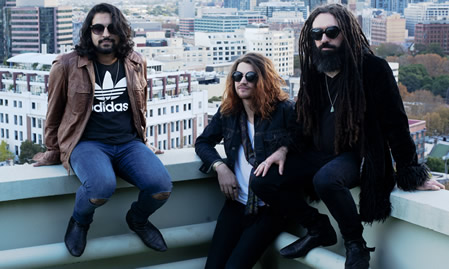 The Lockhearts are a Sydney based rock band that have been likened to The Black Keys and Queen when performing on stage. We caught up with Tim Meaco (Vocals and Guitar), Samuel Sheumack (Guitar), and Jameel Majam (Bass Guitar) as they tour to support their upcoming EP, 'Tales from the Sea'.
How did you get your start in the music industry?
We all started in different garage bands as teenagers, likely playing out of key 12 bar blues and sloppy renditions of Killing in the Name and Master of Puppets. As soon as pubs would let us in, we'd jump on the bill at any venue that would take us. That's how I eventually met Jameel and started this band.
Best part of what you do?
Touring in Jean Claude Band Van. Seeing the country, playing every night to new faces, sharing the songs in the unpredictable energy of a live show and connecting with the audience. That's the best thing about music.
And the worst part?
Repairs. Many musicians say that their guitars are like their children… and if that's the case then we are terrible, terrible parents.
Any interesting experiences you can share?
Yes, but we're saving them for our guitarist's book "How to make friends, yell at livestock and ruin lives with homemade chilli vodka – an autobiography by Sam Sheumack"
Favourite album of all time and why?
Exile on Main St – The Rolling Stones. Because if you're going to make me pick one, it might as well be a double album, and the sheer number of saxophone solos from Bobby Keys make this one a clear front runner. Other contenders included: Led Zeppelin IV, Burn – Deep Purple, Rage Against The Machine, The Bronx, Space Jam Soundtrack and Beat The Devil's Tattoo – BRMC.
Best live performance that you've ever seen?
Bruce Springsteen. Also an excellent number of saxophone solos.
Favourite venues to hang out in?
Brighton Up Bar, Frankie's Pizza, Cherry Bar, The Great Northern Hotel, to name a few. Just anywhere with a decent beer selection and good music.
Take us through a typical day in the life of The Lockhearts.
Well we usually wake up in the morning feeling like P Diddy, grab our glasses, out the door, maybe hit the city, but before we leave we brush our teeth with toothpaste because dental hygiene is important and Jack Daniels is a terrible cleaning agent.
What advice would you give to someone looking at getting involved in the music industry?
Always bring a towel, say please and thank you, be nice to people who handle your food and never cover Metallica, Nirvana or Oasis.
Any news or final comments?
We'll be touring for the next few weeks in support of our upcoming double EP "Tales From The Sea" which you can get only at our shows for now! We'll be releasing it online in on July 13th and we're pretty excited to put it out. Until then, you can find the record's 1st single "LOW" on iTunes and Spotify.
"Tales From The Sea" is available now.
Sydney Unleashed is one of Australia's premier entertainment publications exploring the latest in lifestyle trends. From Sydney's finest restaurants, cafes and bars to the hottest in gadgets, products, and home entertainment, Sydney Unleashed is your one-stop lifestyle platform.