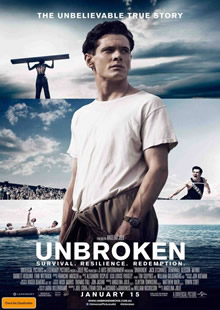 Starring: Jack O'Connell, Garrett Hedlund, Miyavi, Takamasa Ishihara, Alex Russell, Jai Courtney (Rated M – 137 min).
Handsomely made, conventional in approach, filmed throughout Australia, this second directorial effort from Angelina Jolie, is a triumphant true story of resilience and pure determination. The remarkable survival tale of purple heart recipient Louis Zamperini, an Olympic athlete turned prisoner of war, is extraordinary.
Opening during World War II within a mid-air fighter plane dogfight, the movie proves immediately how technically astute it is and what Jolie wants to do, get the audience involved. Shot down during the skirmish crash diving into the ocean with two fellow crewmen, hell in the pacific becomes a reality as the trio float around on a raft for 47 days dealing with starvation, dehydration and circling sharks. Eating albatross becomes an unwanted delicacy for the boys.
The duress in these scenes are harshly observed but it's not over, even after help arrives. Eventually the Japanese navy cruises by picking them up only to send them directly to a refugee prison camp, this is where their treatment including repeated bamboo stick beatings are very hard to watch. Cinematography by Roger Deakins captures the affliction of war, but lingering camera shots of torture make an impact.
Flashbacks throughout look back at the early years as a troubled kid in many personal and social levels, also looking at competing during the Olympic Games of 1936. Jack O'Connell does an admirable turn as Zamperini, convincing in his reactions to the peril and moments of joy.
Smaller roles by Alex Russell and Jai Courtney prove they continue to be esteemed young talent, while Japanese rock star turned actor Miyavi is irrepressible as the terrifying shady prison guard known as The Bird. This guy resonates fear without consciousness.
Slow pace is a downer, but the fascinating story trumps up interest more often than not. Angelina Jolie gets rare form from her largely little known cast and authenticity of shooting locales including North Queensland and the streets of Sydney even doubling as a Japanese business district.
The Oscar winning actress directs with obvious compassion to her subject, an unbelievable story worthy of the big screen treatment. Sadly Louis Zamperini only passed away last year but spent valuable time with Jolie prior to production. 

Shane A. Bassett
Sydney Unleashed is one of Australia's premier entertainment publications exploring the latest in lifestyle trends. From Sydney's finest restaurants, cafes and bars to the hottest in gadgets, products, and home entertainment, Sydney Unleashed is your one-stop lifestyle platform.