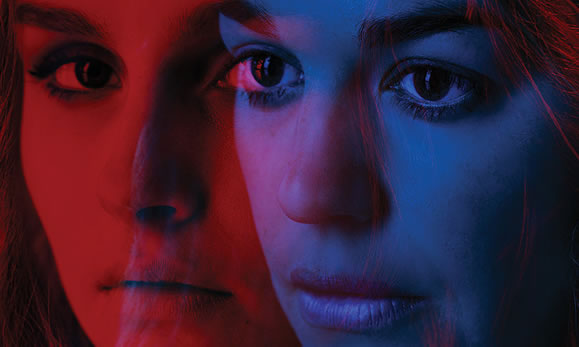 Undertow Movie Interviews
Miranda Nation is a creative talent behind the camera, with pen to page and lovely to talk with too. The director has a name as cool as Joan Jett, an artist whom she incidentally gained personal permission to use a song in for her feature debut UNDERTOW. A movie with layers of emotional clout, Miranda is a filmmaker with spark and an eye for perfect casting.
Your film is a tale of deception, anxiety, sorry suspicion. Was it always going to be extremely grim from the first draft?
MN – No not grim, to me it's a psychological thriller playing in territory that's intense and hopefully takes audiences on a ride. I do like films exploring dark emotions while the subject matter we cover is provoking. I hope there is a balance of all that while remaining engaging.
Your name is an incredibly cinematic name, is it real or a pseudonym?
MN – (laughs) Yes it's real and genuinely thankful to my father for it.
How long has the film been gestating until released?
MN – Long time, it went through a springboard program back in 2012 making short film Perception, a calling card to this feature. We shot Undertow early 2017…only now finally seeing it in cinemas after successful festival screenings.
The aspiring career of Olivia DeJonge has ascended in that time. Was her potential obvious when you cast her?
MN – All the actors are magnificent in it. I was absolutely aware of her talent, she's brilliant whilst appearing in numerous intense roles already. Was excited to work with Olivia always picturing her as Angie. Schedules lined up to be available so I couldn't have been happier.
Casting all round, did you have actors in mind?
MN – Went through quite an extensive process, however, as many of them spread out around the world, mostly first saw them on self-tapes. The moment I saw Laura Gordon in particular, I knew she would be right for Claire. She had the amazing immediate rhythm off the page, exactly how I had imagined.
How much notice or awareness did you have to give the AFL regarding that plotline, especially Geelong Cats?
MN – We didn't have to get permission, we did speak to people to let them know the film was being made. To be honest not much really. They were already actively trying to change the culture and educate players, I think they would have seen this as another step changing the dynamic having that conversation. We were not singling out this code, or team.
Great location in the skateboarding scene and the Spinx Nightclub, did you build them?
MN – Everything was filmed authentically in Geelong, also down the Coast. Growing up in Geelong, it is familiar to me. That area no longer exists, it's been torn down and cleared since using that area.
The club was real, owner George said he's been inspired by Las Vegas.
Is there a director's cameo I may have missed?
MH – Only a voice cameo, recording in post (production), I don't appear.
Was it a fast shoot or long? Did you enjoy yourself?
MH – Certainly loved being on set, certainly stressful elements thinking on your feet with unsuitable weather or losing an actor 10pm the night before a scene which happened. 24 days shooting which is fairly normal for a low budget feature, I feel we scheduled well, not rushed.
What is your opinion on the state of the Australian film industry?
MN – That's a big question, I am excited by initiatives taken by Screen Australia like Gender Matters; encouraging all these amazing female voices we have in our industry that in the past have not balanced from the amount of women in film school to who work constantly afterwards. Globally we are seeing a shift for these kinds of stories, so positive.
Interview with strong female lead, Laura Gordon
Laura Gordon is an Australian actress I first noticed in dark independent film Em 4 Jay (2006). Then after appearing across multiple international big and small screen projects, including a part in popular horror franchise SAW – then recreating Linda Kozlowski in the HOGES biography – her new movie UNDERTOW embarks into limited cinemas now. But be warned, this heavy set drama is not all that it seems. Well acted, driven female lead performances circling around intense personal situations elevates this cinematic journey of meditation and grief to an impactful experience.
Did you audition for this great role?
LG – Sent in a self-tape to director Miranda Nation. We met and decided to work on the character together, then I got the role. Reading the script inspired me, with that came a lot of preparation work then enjoying the shoot doing the best work I can.
Could you enjoy the shoot between the challenge of pushing the dramatic boundaries?
LG – Absolutely, depending on the day or location. I would either stay almost in character waiting or preparing, but other times moods were lightened between takes around the crew, they knew how to laugh.
Was there any of you in the character of Claire?
LG – In terms of what she is going through, that is very far from me. But I do like to bring a personal part of me to any role or moments in scenes.
You come across a few dead animals in the film.
LG – (laughs) I think I became a little more intimate with a real dead fox more than I would've liked. The others were props, I think (laughs).
You and Olivia DeJonge share good, disrupted realism and chemistry.
LG – She's a fantastic natural actress, really gratifying working on those scenes with her. Starting with Miranda's script, the relationship we developed on and off screen became a gift to connect as characters, breathing life into scenes bouncing off each other.
Was there much going off script to further the drama?
LG – Only in rehearsals did we tweak a few things, stayed true to the shooting draft rather than improvise.
Had you known the work of Miranda Nation previously?
LG – Initially not aware of her work but watched two short films. I was struck particularly by Perception (2013) enjoying visual style and what she got out of the lead actress. That was my introduction.
Do you have a preference of television roles as opposed to features?
LG – If the script is good, I don't mind but there is some amazing stuff creatively happening in television production now.
Do you get recognised in the street for any particular previous role?
LG – I don't really know how to answer that, it depends on what part of Australia I am in. There are occasional SAW fans and I did a season of series Secret City. I found that a really interesting role, great project that comes up from time to time.
Do you find acting opportunities are prevalent enough in Australia?
LG – Regarding going overseas, one is not more important than the other or better. I love telling Australian stories, our filmmakers are creating some interesting powerful work here right now. That said, abroad there's also solid productions on offer. It can be great to straddle the two. Just telling triumphant stories is what I care about, scripts and teams involved, it's case by case.
What is coming up in the pipeline?
LG – Reckoning, a riveting new mini-series. Also Streamline from a first time director starring Jason Issacs / Levi Miller, another intense drama.
UNDERTOW: Rated MA, 96 min.
Showing at Randwick Ritz / Dendy Newtown in Sydney and in limited cinemas around the country.
Shane A. Bassett
Sydney Unleashed is one of Australia's premier entertainment publications exploring the latest in lifestyle trends. From Sydney's finest restaurants, cafes and bars to the hottest in gadgets, products, and home entertainment, Sydney Unleashed is your one-stop lifestyle platform.