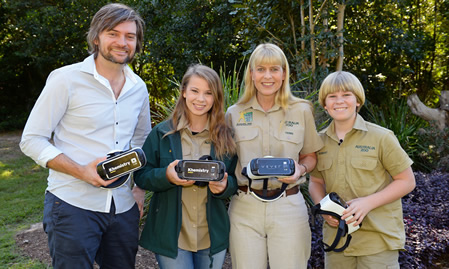 Virtual Reality first launches in Queensland
Queensland creative agency Khemistry has partnered with Australia Zoo to produce a virtual reality video encounter with some of the zoo's biggest and most popular animals.
The immersive 360-degree experience gives visitors a one-of-a-kind chance to get up close and personal with crocodiles, rhinos, tigers, snakes and giraffes, all through the comfort and safety of a virtual reality headset.
Khemistry Director Ashton Ward said the virtual reality video project was a game changer for wildlife attractions and wildlife filmmaking. "The Australia Zoo project was a first for us, and gives visitors the opportunity to play with a Sumatran tiger cub, pat a rhino's nose, and feed a hungry giraffe." Mr Ward said. "They can soar over African animals with a drone's-eye-view, and climb inside the enclosure with 4 metre salt water crocodiles. Experiences like this have been out of reach until now.
"Virtual reality video is no longer a futuristic idea. This technology allows people to go new places and experience new things in a way we've never seen before. As leaders in this space we will keep working with Queensland companies to develop new virtual reality projects that enhance the way people enjoy entertainment, go shopping or even buy a house."
Australia Zoo's Darren Gertler who managed the production said the project provided another exciting way to showcase the Zoo experience. "Steve believed that interacting with wildlife was the best way to inspire conservation and this new technology will allow our visitors to get up close with some of the zoo's incredible wildlife and continue that message." Mr Gertler said.
"From concept to completion, Khemistry has been amazing to work with and has helped us to deliver an out-of-this-world 360 experience for anyone around the world interested in seeing Australia Zoo. This footage is sure to change the way Australia Zoo visitors interact and engage with the animals, ensuring a fun experience for visitors of all ages and will assist us in attracting a new generation of Wildlife Warriors."
Khemistry is hoping the launch of this project will change the way people are able to experience the zoo, with the potential for virtual reality to be taken to new heights in years to come. A special highlight for the whole team was when one of Australia Zoo's biggest crocodiles, Monty, launched at one of the cameras taking it for a swim which made for some adrenaline-packed filming!
To find out more about Khemistry and how they are using virtual reality to change the way we view our world go to: http://khemistry.com.au
Sydney Unleashed is one of Australia's premier entertainment publications exploring the latest in lifestyle trends. From Sydney's finest restaurants, cafes and bars to the hottest in gadgets, products, and home entertainment, Sydney Unleashed is your one-stop lifestyle platform.