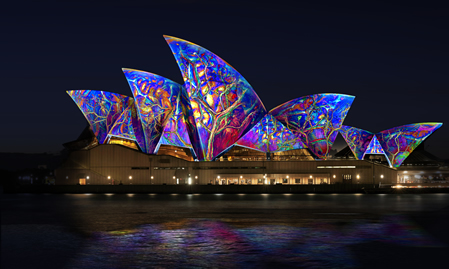 23 May – 9 June 2014.
Owned and managed by Destination NSW, the NSW Government's tourism and major events agency, Vivid Sydney is an 18-day festival of light, music and ideas – the largest of its kind in the Southern Hemisphere.
Each winter, Vivid Sydney transforms the city into a colourful canvas of light, music and ideas, and celebrates the creative industries. From 6pm to midnight each night, light installations and projections illuminate the world famous Sydney Opera House, Circular Quay, The Rocks and Walsh Bay.
Now in its sixth year, the event is owned and managed by Destination NSW, and celebrates Sydney as the creative hub of the Asia-Pacific with large scale light installations and projections; free family events; music performances and collaborations; and creative ideas, discussions and debates.
Named Australia's Event of the Year in 2013, last year Vivid Sydney attracted record crowds of over 800,000 people, delivered around $20 million in new money for the State, and fostered new tourism markets and opportunities.
With the creation of marketing campaigns, promotions and travel packaging by Destination NSW, in 2013 Vivid Sydney's appeal to the international visitor saw 11,000 travel packages sold, of which 7,200 were sold in China.
Vivid Sydney's Creative Director is Ignatius Jones. Three festival directors are responsible for each 'pillar' of Vivid Sydney – Light (Anthony Bastic), Music (Ignatius Jones with Vivid LIVE Festival Director Fergus Linehan) and Vivid Ideas (Jess Scully).
VIVID LIGHT, VIVID MUSIC AND VIVID IDEAS – AN OVERVIEW
Vivid Light: Free, outdoor and amazing art installations and projections transform Sydney's architecture and open spaces – including harbour foreshore, Walsh Bay, Darling Harbour and Inner West.
Vivid Music: Music collaborations and performances to entertain and intrigue, from mainstream to avant-garde at various venues including Vivid LIVE at the Sydney Opera House.
Vivid Ideas: Creative ideas, public talks, industry seminars, conferences, workshops and debates (held at the Vivid Ideas Exchange on the 6th floor of the Museum of Contemporary Art Australia and at various locations around Sydney's CBD and Inner West).
VIVID SYDNEY 2014 HIGHLIGHTS
This year Vivid Sydney will present the largest program in the event's history across light, music and ideas.
VIVID LIGHT
Vivid Light returns with another dazzling, family friendly Light Walk featuring interactive light installations, illuminated skyscrapers and large-scale 3D mapped projections around The Rocks, Circular Quay, Walsh Bay, Darling Harbour, the Sydney Harbour Bridge and Martin Place for the first time. With 50 installations in a Light Walk that spans over 2.7km, this is 'Light Art' on a grand scale, in one of the best settings in the world. Brand new in 2014, Sydney Harbour will join in the festivities like never before with Harbour Lights, featuring ferries and vessels decked out in LED lights, which will change colour as they move around the harbour.
Another first this year, Destination NSW has commissioned five artists to design brand new light installations for the Vivid Light Walk. Award-winning creative agency 59 Productions will design the centerpiece of Vivid Sydney, the
Lighting the Sails of the iconic Sydney Opera House, with a stunning arrangement of 3Dmapped projections.
VIVID MUSIC
Vivid Music is growing exponentially in 2014. This year we have more events, more artists involved and more venues which will be home to Vivid Music.
Vivid LIVE at Sydney Opera House will feature local and international artists, including Pixies, Giorgio Moroder, and Timeline, a special collaboration between the Australia Chamber Orchestra, led by Richard Tognetti, and electro-pop duo The Presets. New this year is Modulations at CarriageWorks, curated by Stephen Pavlovic, which features three days of exclusive music performances, art, installations and contemporary ideas as part of Vivid Sydney 2014 from 6-8 June.
Grounded in music and crossing art and design, Modulations looks at where these art forms intersect, overlap and influence each other. Modulations will be headlined by multi-award winning electronic pop legends Pet Shop Boys. Known for their collaborations across music, theatre and film, Pet Shop Boys are considered the most successful duo in UK music history. Highlights also include Fred Deakin, formerly one half of UK electronic duo Lemon Jelly, whose work explores the realms of audio-visual remixing and interactive installations. There is also exciting Vivid Music programming at the Seymour Centre with New Wave: Sound, and cutting-edge club performances at The Basement and Argyle Centre.
VIVID IDEAS
Vivid Ideas will deliver its largest program yet, with over 200 events and 300 speakers featured. Collaborating with an even broader range of industries and experts, the 2014 Vivid Ideas program, based at Vivid Ideas Exchange on Level 6 of the Museum of Contemporary Art Australia (MCA), is structured around eight content clusters spanning digital media, design, architecture, animation, fashion, filmmaking, and beyond, with 15 signature events and 12 keynote talks currently confirmed from globally-renowned speakers, entrepreneurs, artists and designers.
From student-focused portfolio sessions, workshops for small-business owners and sole traders; to professional development sessions for those working in the creative sector, and exclusive events for industry leaders and representatives. Vivid Ideas puts Sydney at the forefront of the creative industries sector, fostering collaboration, connection and ideas generation. Keynote speakers include globally recognised designer and artist Candy Chang; unconventional marketing expert Ryan Holiday; editorial director of Upworthy Sara Critchfield; global leader of the 4D printing movement Skylar Tibbits; and REBEL8 director Joshy D.
Sydney Unleashed is one of Australia's premier entertainment publications exploring the latest in lifestyle trends. From Sydney's finest restaurants, cafes and bars to the hottest in gadgets, products, and home entertainment, Sydney Unleashed is your one-stop lifestyle platform.