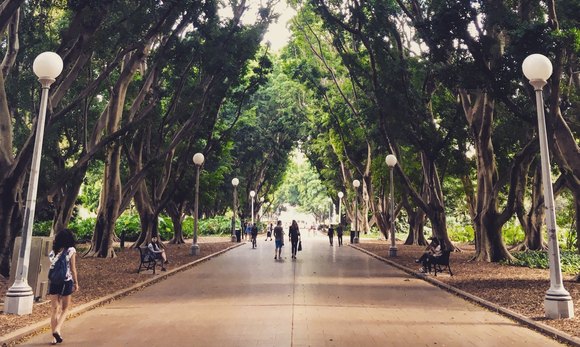 9 Best Hidden Gems in Sydney
Sydney has a wide array of popular tourist spots, historical sites, natural attractions, and other lovely destinations to explore. However, there are certain spots that can be quite challenging to locate, to the extent that even the locals are often unaware of their existence.
When you envision Sydney, you can't help but imagine the impressive landmarks that come to mind: the iconic Harbour Bridge, the renowned Opera House, the countless beautiful beaches, and expansive national parks.
Just make sure you're paying attention to the little details. Here are the hidden hideaways scattered throughout the city that hold some intriguing secrets.
1. The Bible Garden
If you've ever been to the Palm Beach peninsula, chances are you know about the Barrenjoey Lighthouse as well as the amazing views you can see up there. If you want even more astounding views, you should visit the Bible Garden. This gorgeous hidden spot offers a stunning view of the main beach from the south.
The garden is small, but it's stunning and has a peaceful atmosphere where you can also enjoy your favourite slots online using your best Uptown Pokies bonuses. The garden is designed with Christian themes and features a series of grassy terraces. These terraces lead to an observation deck where you can enjoy breathtaking views of the surrounding area.
2. Paddington Reservoir Gardens
The sunken garden in Sydney is truly a hidden gem. The Paddington Reservoir used to be where the city got its water until a better system was introduced in 1899. In 2009, the unused reservoir underwent a transformation and became a beautiful garden. Today, it serves as a tranquil sanctuary within the bustling city, offering a peaceful retreat where you can unwind and relax.
The gardens have been beautifully restored, keeping much of the original framework intact. You'll find towering columns of brick arches blending harmoniously with contemporary metal and stone paths. When you're in the area, take a leisurely walk along Oxford Street, which is a trendy shopping strip. Then, continue your stroll into William Street to experience the unique combination of retail stores along with traditional Victorian terraces, which Sydney is famous for.
3. Bronte Baths
During the city's hot summers, it's always a treat to have access to a free public swimming pool. However, the ocean baths found at Bronte take the experience to a whole new level compared to your typical pool. Bronte is considered one of the top beaches in Sydney. Unlike its more famous counterpart, Bondi, Bronte is a hidden gem that is not as crowded and is mostly enjoyed by locals.
The Bronte Baths, which are known as one of Australia's top ocean pools, are accessible to the public all year round. The historic baths were initially opened back in 1887 and have remained a beloved spot among locals ever since. After you're done swimming, make sure to check out the stunning scenery along the Bondi towards the Bronte coastline.
4. Shipwrecks of Homebush Bay
It seems like Homebush Bay serves is where several shipwrecks end up. These ships were originally part of a shipwreck yard in which they were supposed to be disposed of.
There are four abandoned freighters that can still be seen, and the most impressive shipwreck is the SS Ayrfield. Over time, it has transformed into a floating forest.
It's amazing how nature has reclaimed these wrecks, turning them into a popular spot for photography in Sydney.
To see the shipwrecks, the most recommended route is to take a walk from the Waterbird Refuge at Sydney Olympic Park towards the Promenade.
5. Collins Flat Beach
If you're looking for a peaceful spot by the beach that doesn't require a boat ride, you should check out Collins Flat Beach, which is located near the well-known Manly Beach. This hidden spot is surrounded by trees and rock pools, creating a picturesque setting. It also has a calm, natural harbor, perfect for swimming without the crowds.
You will also come across the equally beautiful Quarantine Beach, Store Beach, and Little Manly Beach a bit further along the coast.
6. Royal National Park
The Royal National Park is a vast area of land, covering over 16 thousand hectares, located to the south of the city. It serves as a protective barrier for a stunning coastline and lush inland bush. This park is cherished by both surfers and people who enjoy picnicking in nature. If you're looking to get away from the busy city life for a day or two, then this place is perfect for you.
From May to October, you can either hop on a tour boat or make your way up the sandstone cliffs to catch a glimpse of the magnificent whales when they migrate through the inviting waters of Sydney.
7. Karloo Pools
Escape from the hustle and bustle of everyday life and immerse yourself in the serene beauty of Karloo Pools, where you can experience a completely natural environment.
The natural swimming hole is absolutely stunning, with its emerald-green waters that are just perfect for a soothing dip. Karloo Pools are situated in Heathcote, within Sydney's Royal National Park. It is a bit of a journey to reach them, so be prepared for an exciting adventure!
8. Angel Place Birdcages
If you venture down a secret alleyway near Martin Place, you'll stumble upon a beautiful display of hanging birdcages. These cages serve as a tribute to the birds that used to fill the streets of Sydney with their delightful songs and graceful flights.
The birds were slowly displaced due to European settlement. As a way to remember the lost presence of these birds, there is a captivating art installation in Angel Place. It features bird songs changing throughout the day and night, paying tribute to the numerous native species that are either extinct or at risk.
9. Nature's Infinity Pool
This beautiful spot is known as Nature's Infinity Pool, as it is a natural infinity pool formed by nature in the breathtaking Brisbane Waters National Park.
The secret trough waterfall can be found in Woy Woy. To reach it, you'll need to travel approximately three kilometers from the Tunnel Fire Trail.
The natural swimming hole is absolutely amazing! It's a hidden gem where you can escape the heat and cool off during those scorching summer days.
Conclusion
If you are searching for something thrilling to do in Sydney and have already checked out the Opera House, explored Bondi Beach, and spent plenty of time at Darling Harbour, what's your next move?
Sydney is a city with an abundance of incredible sights and activities. In fact, there are still some amazing attractions in Sydney that remain undiscovered. This guide has revealed the unearthed world of hidden gems in Sydney.
Sydney Unleashed is one of Australia's premier entertainment publications exploring the latest in lifestyle trends. From Sydney's finest restaurants, cafes and bars to the hottest in gadgets, products, and home entertainment, Sydney Unleashed is your one-stop lifestyle platform.