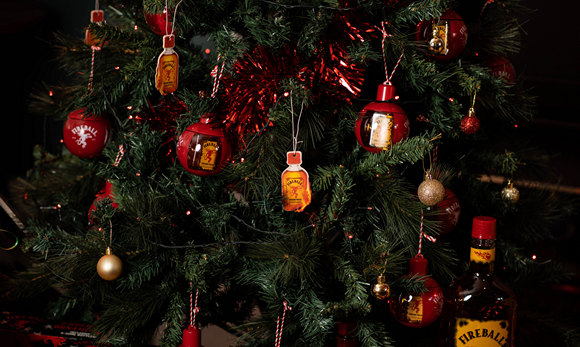 Ho ho ho! It's that time of the year again. The festive season is here and that can only mean presents. Check out some of these amazing gift ideas for the special people in your life.
Fireball Fire-baubles
Whether you've been naughty or nice this year, heat up your holidays with something red-hot and unexpected from Fireball Cinnamon Whisky. Introducing the Fire-bauble, guaranteed to spice things up and bring the festive vibes all season long! Taking special occasions to the next level is what Fireball Whisky does best, so you can bet that these Fire-baubles aren't just your typical holiday decorations. The glossy, red ornaments don't only look great hung on your tree – each bauble also comes with a cheeky Fireball 50mL mini inside! Even better, Fire-baubles are reusable so will fast become part of your annual holiday decorations. If you're looking for a way to dial up your gift-giving this year or bring the fun to a holiday gathering, grab a six-pack box of Fireball Fire-bauble 'Ornaments' for $45 and give your fellow frothers something that will add a little fire to their festivities. Fire-baubles are available now at Boozebud, IGA Liquor, Bottle-O and other independent bottle shops.
Cadbury Chocolate
This Christmas, Cadbury has launched a delicious range of seasonal treats that are perfect for sharing with loved ones, including the ultimate gift box that everyone will love – the new Cadbury Christmas Mix Gift Box. The new box contains a variety of individually wrapped festive treat-sized chocolates that are perfect for sharing with family and friends, containing an assortment of different flavours to suit a range of tastes. Each 522g box includes a range of seasonal treats including: Cadbury Dairy Milk Milk Chocolate Baubles, Cadbury Dairy Milk Caramello Baubles with a Flowing Caramel Centre, Cadbury Dairy Milk Milk Chocolate with Hazelnut Pieces, Cadbury Dairy Milk Milk Chocolate Santas, Cadbury Milk Chocolate Magical Elves with Popping Candy. The Christmas Mix Gift Box offers something for everyone and is available in Coles and independent retailers (RRP $20). This festive season, Cadbury is also extending its existing popular Baubles and Scorched ranges with new moreish flavours that are perfect for sharing at the Christmas table or a family barbecue. The new flavours include: Cadbury Old Gold Salted Toffee Baubles (A bag of Old Gold dark chocolate baubles with salted toffee chip pieces, 112g). These bite-sized delights are available at Coles and independent retailers, RRP $4.50; Cadbury Mint & Berry Bites (A mix of soft and juicy mint or raspberry flavoured jelly pieces coated with smooth Cadbury milk chocolate, 300g). These festive treats are exclusive to Coles (RRP $10); and Cadbury Old Gold Peanut & Honeycomb (A mix of honeycomb pieces and peanuts coated in Cadbury Old Gold dark chocolate, 280g). These seasonal sweets are available at Woolworths and independent retailers (RRP $10). The other Cadbury fan favourites are still available this Christmas, including the Cadbury 312g Advent Calendar (RRP $20, available at all major retailers), as well as Cadbury Dairy Milk, Caramello, Caramilk and Peppermint Baubles (RRP $4.50, available at all major retailers). Also, Cadbury's iconic Chocolate Coated Nuts range which includes Cadbury Milk Chocolate Coated Almonds, Peanuts, Hazelnuts, Sultanas and Fruit & Nut mix (RRP $10, available at all major retailers).
Skullcandy Earbuds
Skullcandy creates modern audio accessories offering the ideal gift for those who live and breathe music. The 'Supreme Sound' Sesh ANC earbuds are where innovative tech meets sleek style. Unlike 2-mic systems commonly found in affordable noise-canceling products, it detects and cancels noise in the full spectrum of high and low frequencies. With 4-mic hybrid active noise cancelling and adjustable Stay-Aware Mode, you can turn up or tune out the Christmas carols without being disturbed. Packed with other features including Finding Technology, IP55 water resistance, 46 hours of battery life with ANC off and 32 hours with ANC on – it's the perfect gift for those that want sensational sound on the go. The Skullcandy Sesh ANC is available for purchase online or via JB Hi-Fi (RRP $149).
Drinks By The Dram
Searching for a unique gift for a loved one for the holidays? Drinks by the Dram offers an easy way to sip on a selection of fine spirits before shelling out on a full-sized bottle. Whether they are alcohol connoisseurs or are still figuring out their go-to drink, Drinks by the Dram has a selection of four gift packs sure to impress including the Whiskey Collection, Regions of Scotland Whiskey Tasting Set, That Boutique-y Gin Collection Set and the Retro Gin Fridge Set. The Whiskey Collection is a perfect gift for whiskey lovers looking to explore the tastes of whiskey, selected from award-winning distilleries to boutique bottlings. The 12 exceptional, 30ml drams of whiskey are beautifully presented, ready to be enjoyed neat with a smooth and mellow finish on the palate and throat (RRP $99.99, available from Shortys Liquor). If your dad is a whiskey fan, the Regions of Scotland Whiskey Tasting Set is the first of its kind in Australia, making it a very unique gift. Containing five 30ml samples from the fruity 'Highland' to the floral 'Lowlands', the tasting set shows off the wonderful world of whiskey Scotland is known for (RRP $59, available at participating Cellarbrations). Also available is The Boutique-y Gin Company Gin Collection – a tour of all that gin has to offer. Featuring 12 hand sealed drams of craft gin, this collection is perfect for people who are looking to explore the many different styles and flavours of gin without committing to a whole bottle (RRP $84.99, available from Shortys Liquor). And finally, whether your loved one is an avid gin drinker or still testing the waters, the Retro Gin Fridge Set is a quirky gift that is more than just a great selection of gins. Nestled inside the retro gin fridge tin from Master of Malt is a selection of eight gorgeous gins, including fabulous flavours such as smoked rosemary, cherry, strawberry and balsamic, yuzu gin and more (RRP $75, available at participating Cellarbrations stores).
Truff Truffle Lovers Pack
For the TRUFF beginners (or cult fanatics), the Truffle Lovers Pack has everything you need to enter the umami world. Perfect for any gifting occasion, this bundle includes their signature Black Truffle Hot Sauce (a flavour profile from ingredients normally reserved for fine tequilas, delicate delicacies, and elegant dining experiences), Black Truffle Pomodoro Pasta Sauce (a blend of flavours of TRUFF with garden-fresh ingredients to create a rich pasta sauce that's both balanced and bold) and Black Truffle Oil (real black winter truffles infused into olive oil to create the perfect finishing oil). Impeccably encased in a elegant VIP gift box. The TRUFF Truffle Lovers pack is available for purchase online or via David Jones (RRP from $112.95).
Christmas Chocolate
For the chocolate lover, some organic chocolate and licorice from Junee Licorice and Chocolate Factory is the ideal gift. A big hit this year is the All I Want For Christmas Bag ($25) containing 1 x Bag of Milk Chocolate Freckles, 1 x Milk Rocky Road, 1 x Milk Honeycomb Block and 1 x Milk Strawberry Block. The Pizza Wheel (small, $30) is another one of the most popular Christmas gifts. You can choose dark, milk or white chocolate, black or raspberry licorice dividers, and there's a variety of toppings including marshmallow rocky road, honeycomb, pink 'yummies' – which are like organic Smarties – and white chocolate roasted almond love hearts with a raspberry-infused white powdered dusting. Another top-notch option is The Tasting Tray ($25) which features an assortment of chocolates in milk, dark, and white. A highly popular gift for a treat with dinner, or a perfect Secret Santa gift for that one tricky shopper. The Junee Licorice & Chocolate Factory produces a growing range of innovative, certified organic confectioneries. Pick up a gift for your loved one here.
Thermos Goodies
With 2022 being the year of budgeting, Thermos® has Aussies covered with a range of best-selling gifts under $100 that anybody will love. Being an affordable and eco-friendly gift, these Thermos® items won't make you think twice about the state of your bank account this festive season, just in time for summer as well! A great option is the 770ml Thermos® Vacuum Insulated Hydration Bottle which features Thermos™ vacuum insulation technology for maximum temperature retention, durable stainless-steel interior and exterior, sweat proof design that won't leave water rings, and hygienic screw top lid keeps mouthpiece protected from germs and dirt (RRP: $59.99). Also available is the Thermos® Stainless King Vacuum Insulated Food Jar, 470ml with which keeps contents hot for up to nine hours or cold for up to fourteen hours, has a durable stainless steel interior and exterior, extra wide mouth that's easy to fill, serve from and clean and cool to the touch with hot liquids, sweat-proof with cold (RRP: $46.99). You also can't go wrong with the Stainless King™ Mug 470ml which keeps contents hot for seven hours and cold for eighteen. This rough and tumble stainless steel travel mug is great for long treks or long road trips—to the wilderness or across town. The perfect travel companion – durable, dependable, and designed for the long haul (RRP: $64.99).
Gintonica
In a sure sign that gin is most definitely 'in' this Christmas, Gintonica, Australia's go-to resource for all things craft gin, has just re-released two of its best-selling festive products. Ideal for those looking to add an extra gin-gle to their Christmas tree, festive tablescape and mantle, or a thoughtful present, the Gingle Bells Floral Gin Baubles feature premium Australian dry gin inside, which is infused with a botanical for an added layer of flavour. Included in the box are six different gin-filled baubles nestled inside a premium magnetic-close gift box. The metal screw cap lid of each bauble is threaded with a silver ribbon to hang your Gingle Bells up as a fun decoration for your tree, mantle or as a gin-credible table centre piece. In what represents a unique twist on the traditional Christmas cracker, Gintonica's Gin Boozy Bon Bons are free from the usual bad jokes and plastic toys. Instead, they each feature a 30ml bottle of delicious Australian craft gin inside. Both products will no doubt surprise and delight guests and giftees this year, and are available in addition to Gintonica's extensive Advent calendar range.
Tech Gifts from Logitech
For the tech head, Logitech have you covered with some great gift options. The Logitech G435 Lightspeed Wireless Gaming Headset (RRP: $199.95) is perfect for the casual gamer mum. It's light, versatile and includes a minimum of 22% certified post-consumer recycled plastic. From building her new island in Animal Crossing to listening to music while doing grocery runs, mum can look good and feel good. Another great option this year is the Logitech K380 Multi Device Keyboard & Pebble Mouse Combo (RRP: $79.95 / $49.95). Make any space minimalist, modern, and versatile with the K380 Slim Multi-Device—an ultra-thin, design-forward keyboard perfect for typing on your computer, smartphone, tablet, and more. It's the ideal companion for your everyday multitasking.
Victorinox
If you have a loved one into their golf, the Victorinox GolfTool Swiss Sport Tool is a specialty knife that should be at the top of their wish list. Raise your game and lower your handicap with the GolfTool – it's got everything you need for a great day on the course. Use the tee punch to tee up, even on hard or frozen ground. Repair the green with the repair tool. Slide out the ball marker as needed. Repeat until you've beaten your best score. Features ten functions for golfers including repair tool, ballmarker, tee punch, groove cleaner, bottle opener, nail file, blade, tweezers, toothpick and scissors. Available from here (RRP: $139.00).
For the Drink Lover
Skip the last-minute panic buying and pick up some favourite premium spirits this year. Whether you're in need of a present for the cocktail connoisseur or feeling like treating yourself this festive season, Bacardi-Martini has something for every adult this Christmas. One of the top options is Bacardi Coconut. This rum spirit drink is made with a unique blend of Bacardi rum and natural coconut extracts to create a bold and intensely flavoured spirit. Each Bacardi flavoured rum achieves the right balance between the smooth, dry rum and intense, invigorating fruit flavour. Compared to many other flavoured spirits, Bacardi flavoured rums provide a richer, smoother base not obtainable from other base spirits. For the gin lover, you cannot go past Bombay Sapphire Gin. The incomparable taste of Bombay Sapphire is the result of ten carefully selected botanical ingredients coupled with a unique distillation process. Considered one of the worlds true icon Gin's, it is the perfect way to begin the legendary cocktails, the Martini and the G&T.
Top Beauty Products
For the beauty conscious, the Go Bare IPL Hair Removal Handset ($269) is the perfect gift. Go Bare's IPL rejuvenates your skin and permanently reduces body hair. By applying varying levels of broad-spectrum light across the skin, targeting the root of each hair, the handset gently forces hair follicles into a resting phase. With seven different intensities, the handset can also be used on a lower light setting to rejuvenate skin, stimulate blood flow and boost collagen production. Another great gift idea is the Heartwood LAGO Eau de Parfum ($210). Potent, sensual and sparkling; enveloped by a medley of Indian sandalwood, resins and spices, to comfort and protect. This fragrance is a tribute to the expression "Touch Wood", which stems from the ancient ritual to appeal for good luck by knocking on forest trees, where the gods were said to reside. The ideal gift for dull, dry or mature skin types is the Votary Intense Night Kit. Remove makeup, SPF and pollution. Then smooth and hydrate the delicate eye area with retinoid boosted Intense Eye Oil. Encourage the skin's natural cell turnover, and reduce the breakdown of collagen with the Intense Night Oil. In the Overnight Mask, natural plant oils and active ingredients work together so you wake to soft, rejuvenated skin. Bring tranquility to your bedroom with this 100% natural fragrance of lavender, chamomile and rose. Or for something different, get the Glasshouse Fragrances Under The Mistletoe candle ($59.95). Features Glasshouse Fragrances signature blend of spiced apple and red berries that's as difficult to resist as a Christmas kiss.
RUKUSfx Music Mixer
Christmas entertainment is sorted with the RUKUSfx, a hand-held motion-controlled music mixer. With four simple moves – Punch, Swipe, Twist, and Flick – creators can loop, mix, and remix customised music tracks – taking their performances to the next level. RUKUSfx lets users create original DJ-style mixes from 100 pre-loaded music tracks. You can also upload and mix hit songs from your favourite artists. Use RUKUSfx' s built-in microphone to capture extra vocal tracks or sound effects and include them in your own RUKUSfx remixes. You can even record your performances and share them with friends on social media. For even more fun, flip the switch and access RUKUSfx's 80 built-in sound effects. With sounds ranging from fighting to farting, and maniacal screams to magical spells, RUKUSfx is the soundtrack to your imagination. Of course, no performance is complete without a killer light show. That's why RUKUSfx has a built-in LED display that pulses and changes colours with every move. Whether you're performing for an audience of one or one million, RUKUSfx is ready to rock right out of the box and makes the perfect Christmas gift for content creators and music lovers. RUKUSfx Music Mixer is available exclusively at Big W (RRP $75).
Samba Summer Pack
With over $100 of value, the Samba Summer Pack is the ultimate fire and BBQ kick starter pack you need to soak up the sun, crank up the BBQ, and enjoy the aromas and tastes of grilling with your family and friends. Featuring a suite of Samba favourites, including Samba Lump Charcoal, Smoking Chips, Fire Wool firelighters, natural firelighters, Squirt and Light, Long Matches, gas lighters, as well as a four-piece BBQ set in a handy Samba emblazoned bag, the Samba Summer Pack will hit all the right BBQ notes at your next get together. With each Samba product, your barbecue experience will be amplified to a whole new mouth-watering level. To find out more about Samba, visit https://www.sambafireandbbq.com.au/.
Uniden Dash Cam
For your designated driver, Uniden's new range of Dash Cams make the perfect gift with the latest in "Smart In-car Technology". The Uniden iGO CAM 40 is your top pick and offers high-quality footage with Full HD resolution (1080P) and a 2″ LCD Colour Screen in outstanding clarity. With a Super Wide View of 140 Degrees for the camera ensuring that all events are recorded. The Uniden iGO CAM is ideal for Car, Courier, Taxi & Uber Drivers, Tradies, 4WD and Offroad Drivers, Truck and Commercial Drivers. In addition to the safety benefits, the enhanced video footage lets recreational road users capture scenic drives and off-road adventures in crisp detail. The feature-packed Dash Cam is designed for a variety of road users and with a large speedometer display for accurate speed. What also makes the IGO CAM 40 a great in-car companion is the Parking Mode feature. This is ideal in Shopping Centres and Parking Lots allowing you to record when your car is parked and the engine is switched off, the inbuilt sensor detects sudden vibration which will wake the hibernated Dash Cam and switch it on to start recording for a limited time. GPS antenna inside the mount enables video geotagging, recording direction travelling, location and speed. With a small and compact design, the IGO CAM 40 is an excellent choice for Smart Dash Cams. With a brand with over 50 years of engineering excellence, the Uniden Dash Cam range is the obvious choice.
STM Goods
STM Goods, leading Australian designer of innovative carry bags, laptop cases, chargers and pioneering tech, has got everyone covered this Christmas with its range of 'smarter than most' tech accessories. Give the gift of style and substance with STM's range of incredible backpacks and cases, perfect for protecting laptops, tablets and all tech accessories. For the Modern Worker, the top pick this year is the Dux 16L Backpack (RRP $269.95) – the newest addition to STM's Dux range. It's sleek, stylish and features FoamFortress™ 360-degree padding, multi-direction access, SlingTech™ laptop section, and multiple pockets throughout. Another crowd pleaser is STM's Myth Laptop Brief (RRP $89.95) which has been designed with fleece lining for supreme protection, a removable adjustable shoulder strap, and cable routing system that allows charging on-the-go. For those who desire more order and functionality in the office or at home, STM's Must Stash Accessory Storage (RRP $29.95) is the smarter way to organise cords, pens, and any other accessories. Featuring an all-around
zipper, full bag access, and water repellent coating applied to fabric, this is a modern worker necessity. For the Tech Trendsetters, top options include the Dux Plus iPad Case (RRP $89.95) and STM Goods MagPod (RRP $69.95) while Travel Enthusiasts will love the AirStrip (RRP $34.95), the ChargeTree Go (RRP $149.00) or Dapper Wrapper ($39.95). Whether you're looking for a stylish stocking filler, a secret Santa present or a gift that's sure to impress, there's something to suit all lifestyles, budgets and family members. All products are now available for purchase at www.stmgoods.com.au.
Gifts for Pets
For the fur parents, you cannot go past a gift from PetSafe. The PetSafe® Automatic Ball Launcher ($268.79) is for the dog that loves to fetch. This automatic, interactive game of fetch will keep your best friend engaged and give your arm a little break! Perfect for backyard playtime or sprints down the hallway, this toy is water resistant and works with any standard size tennis balls. Whether you have a big dog, a small cat, or multiple animals, the Drinkwell® 7.5 Litre Pet Fountain ($128.99) is the perfect size to keep every furry family member happy, healthy, and hydrated. Pets love running water, and this fountain will entice your pet to drink more as its free-falling stream can be easily adjusted with the turn of a knob. Your pet can enjoy clean, carbon filtered, foam free water that tastes great and is free from pet hairs, odors, and dirt. Another great option this Christmas is the Dancing Dot™ Laser Cat Toy ($42.99) which will let your kitty pounce and play all day, even when you're away. Simply place the laser cat toy on any elevated, flat surface or hang it on a doorknob. With two play mode options and a random, moving laser display, the Dancing Dot™ Laser Cat Toy is a fun way to keep your cat healthy and active! PetSafe® Australia are offering 10% off all their products in time for Christmas. Simply use code HOLIDAY10 at checkout (offer ends 15th December 2022).
For your chance to pick up some goodies in time for Christmas including a PetSafe Automatic Ball Launcher, Drinkwell 7.5 Litre Pet Fountain & Dancing Dot Laser Cat Toy, Samba BBQ Pack, STM Dux 16L Backpack, RUKUSfx Music Maker and a Uniden iGO40 Dash Cam, simply email us in 25 words or less detailing why you should win and which one you'd prefer. Good luck!
Sydney Unleashed is one of Australia's premier entertainment publications exploring the latest in lifestyle trends. From Sydney's finest restaurants, cafes and bars to the hottest in gadgets, products, and home entertainment, Sydney Unleashed is your one-stop lifestyle platform.