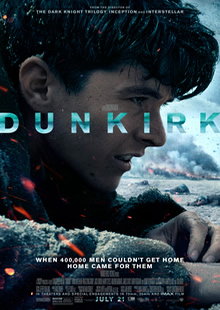 Starring: Kenneth Branagh, Tom Hardy, Cillian Murphy, Mark Rylance, Fionn Whitehead, James D'Arcy, Harold Styles (Rated M – 109 min).
This certainly seems to be the first real Academy Award contender of the year, from beginning to end relentless scope, vision and sound from acclaimed director Christopher Nolan lives up to the gestating anticipation for this true story of breathless human spirit.
Not quite a silent movie, intentional limited dialogue elevates pressure cooker nervousness into suspenseful moments building to the continuous sounds of a ticking clock intertwined to the compelling musical score from maestro Hans Zimmer.
The tale of heroics concerning Dunkirk has been told before however the main perspective of an almost entire male cast here is from a very personal level from people involved and not just the soldiers in need of rescue. Air land sea attention is factored from all angles.
Allied troops are the focus of a daring world war rescue mission when evacuated civilians went out risking their lives to save others in a time when surrounding German military had the upper hand. While never tepid, less war action compensates for more character study of what went down in air, land and sea efforts.
Kenneth Branagh strides along in usual pure acting masterclass fashion as Commander Bolton, distinguished in the importance of proceedings with more to do than simply barking orders. He is there to oversee success under any circumstance.
Determined to be unique aiming high, the film takes risks by letting unravelling images speak magnitudes. Newcomer Fionn Whitehead commands the lead proving a wise move choosing an unknown. Nolan chose his instinct to cast One Direction pop star Harry Styles as no novelty. The pretty boy Brit sheds the cuteness for charisma putting in an above average performance highlighting natural talent in a supporting role.
Mad Max tough guy Tom Hardy, who you will not forget as defiant and brilliant pilot Farrier, his escapades during this incredibly diverse adaptation will gain him even further recognition among Hollywood peers. In a full circle cinematic Dunkirk link to the 1958 classic version that featured Sir Richard Attenborough, his grandson Will Attenborough appears here in a small part as Second Lieutenant.
This is no Saving Private Ryan (1998) or The Longest Day (1962) but patriotic values and humanity soars within a terrific unbelievable courageous war tale. Just be prepared when buying your pop corn and choc top from the candy bar that pulsating nuances of brilliance may leave you gasping, slowly but surely, thrills reach boiling point at the point of exhaustion. Did someone say Oscars?
Shane A. Bassett
Sydney Unleashed is one of Australia's premier entertainment publications exploring the latest in lifestyle trends. From Sydney's finest restaurants, cafes and bars to the hottest in gadgets, products, and home entertainment, Sydney Unleashed is your one-stop lifestyle platform.