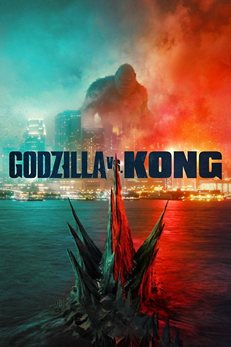 Godzilla Vs. Kong: Movie Review
Godzilla vs. Kong is a definite crowd-pleaser, one that combines a 'monster' movie with an action picture. Fairy tale vs. science-fiction. A conspiracy thriller yet a heartwarming movie about animals and their human companions. Although it might seem like a 'heavy' movie, Godzilla vs. Kong stays light, and it might possibly be one of the best studio films of the year. If not, it is definitely a fun movie, to say the least!
Directed by Adam Wingard and written by Eric Pearson and Max Borenstein, Godzilla vs. Kong still holds one premise very strong to its heart. The giant animal creatures don't want to harm humans. However, they are looking to dominate against each other and fight one another for territory.
The characters of Godzilla and Kong are not new to the limelight. The year of 2014 saw the release of the legendary Godzilla which did so well in interpreting the trauma Japan suffered after the bombings of Hiroshima and Nagasaki. There was also Godzilla: King of the Monsters in 2019. In 2017, Kong starred in his own movie, Kong: Skull Island. However, Kong was also given the spotlight in other entertainment areas such as video games, as well as slot games at many casinos when online gambling in Australia and other countries around the world.
Being both immensely popular, why do Godzilla and Kong want to fight? Apparently, they are 'ancient rivalries'. One of the movie's weaknesses is that it focuses on additional characters, especially human ones, implying that we should know them and be invested in them. However, there are only two familiar faces; the rebellious teen Madison, played by Millie Bobby Brown, and her father, played by Kyle Chandler.
Some human characters are trying to work out why Godzilla has resurfaced. Others are being guided to the Earth's core by Kong. One thing's for sure – the movie is truly imaginative, making it fun and entertaining, even though you might feel lost sometimes. All in all, these human characters and interactions feel like filler in between the monster fights.
What's captivating about Godzilla vs. Kong is how it treats the monsters. They finally feel like fleshed-out characters, losing their sense of mystery and making them seem real. In fact, this makes the fights seem and feel more realistic.
Although the plot might seem illogical, no one can say that Godzilla vs. Kong is not entertaining!
Are you Team Godzilla or Team Kong?
Sydney Unleashed is one of Australia's premier entertainment publications exploring the latest in lifestyle trends. From Sydney's finest restaurants, cafes and bars to the hottest in gadgets, products, and home entertainment, Sydney Unleashed is your one-stop lifestyle platform.