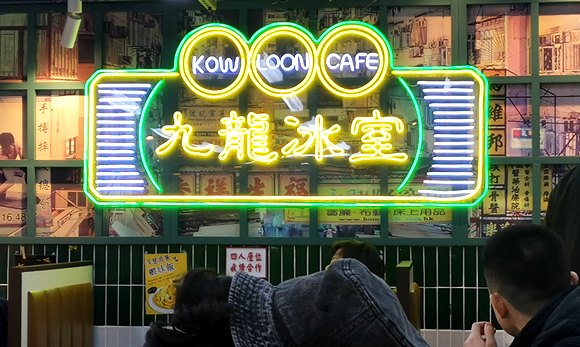 Sydneysiders looking for an authentic Hong Kong dining experience locally need look no further than Kowloon Cafe.
Located in the heart of Haymarket, Kowloon Cafe is loud and proud with its neon lighting, taxi booth seats and walls inspired by traditional Chinese tile game Mahjong.
The idea behind Kowloon Cafe began when owner Howin Chui returned to Australia from Hong Kong and longed for an authentic Hong Kong experience in Sydney. He noticed that the local food culture surrounding casual Cantonese food was being associated with Bubble Tea and Fried Chicken. So, Chui began his mission to redefine the HK culinary experience in Sydney by introducing authentic food, music and beverage experiences. Everything from the menu to the service creates a unique sensory experience for all the guests that dine in the cafe.
Set in a laneway off Dixon Street, Kowloon Cafe features original Hong Kong cuisine that Howin had not yet seen in Sydney as well as innovative dishes. Highlights on the casual menu include the must-try crispy, buttery pineapple bread and the Hong Kong-style French toast served with a selection of condensed milk, honey and maple syrup.
For something savoury, try the scrambled eggs with shallot rice served with a selection of BBQ pork, beef or prawn; the Satay beef noodle soup; the Stir-fried spaghetti with black pepper sauce and pork chop or the absolutely scrumptious Singapore Style Fried Vermicelli with its mixture of meats and vegetables. This hearty, appetizing meal is just bursting with flavours and goes down nicely any day of the week.
You also cannot go wrong with any of the fried rice options but our top pick is the delectable Seafood Fried Rice which is enhanced even further with the addition of XO sauce (you can also have it with black squid sauce). Packed full of pure seafood deliciousness, you'll be licking the plate clean after devouring this one. A quick and easy dinner that doesn't compromise on taste.
The menu also features an extensive range of beverages to complement your meal. Howin says, "It's a big trend in Hong Kong to order a lot of drinks because of the variety. Our Iced milk tea is not to be missed. It is one of the best in Sydney". Other highlights on the menu include the Signature Lemon and Lime Tea and the Salty Lemon Lemonade. All the tea is made in-house and is extremely popular with diners.
Kowloon Cafe is a great addition to the local dining scene. With its friendly staff, affordable pricing and extensive dining and beverage menu, there is something here for everyone.
Kowloon Cafe
421-429 Sussex St, Haymarket
Open from 11:30am–8:30pm daily
More info: kowlooncafe.com.au
Sydney Unleashed is one of Australia's premier entertainment publications exploring the latest in lifestyle trends. From Sydney's finest restaurants, cafes and bars to the hottest in gadgets, products, and home entertainment, Sydney Unleashed is your one-stop lifestyle platform.