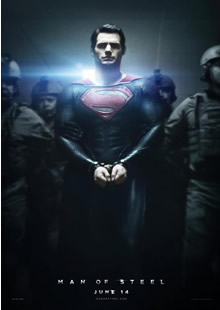 Starring: Henry Cavill, Russell Crowe, Laurence Fishburne, Amy Adams, Michael Shannon, Kevin Costner, Diane Lane (Rated M – 147 min)
No revelations or surprises will be announced during this Man Of Steel review. If you choose to stop reading now, hear this: although it has flaws (very few) and is not as action packed as one would assume (the focus is story), stop at nothing to see this movie!
Overwhelming emotions flow during every minute of this latest incarnation of Superman. For the record, I quite liked the much maligned Superman Returns (2006) which was filmed in Sydney. Not just the rock solid casting or exploring a darker side to his origins, but the pure solstice of unforgettable event cinema adventure. Superman purists and fans of the classic comics may find particular elements different – that's a good thing and works for this version. He has become relevant for today's world, capturing realism as an emotional individual conflicted with loyalties to Krypton ancestors and his human family, Martha & Jonathan Kent.
Beginning on planet Krypton, Kal-El (as he is known) is sent into the atmosphere in a transporter headed for a safer sustainable place for a chance of life. Krypton is self imploding, Jor-El (Russell Crowe) tries to warm his superiors but nobody listens. Clad in black and a very bad man, General Zod (Michael Shannon) attempts mutiny and is eventually banished but not before revenge on Kal-El and the secret component sent with him to Earth. As the story flows, we see flashbacks of a young Superman growing up as Clark Kent, hiding his powers, not alerting his abilities to anyone until one day he's involved in a school bus crash. Things change and as much as the Kent's want him to stick around, Clark moves on, travelling north on a feeling he will find answers within the Arctic circle.
From here on, real issues take hold and the action heats up. Smallville and the Daily Planet are a small part of proceedings also. Not far from a Christopher Reeve clone, British actor Henry Cavill (Whatever Works, Immortals) raised eyebrows when first cast as the Man of Steel, but he epitomes the suit. Full of compassion to his planet and departing son, Russell Crowe does well in his Kryptonian scenes, his deep voice and stern mannerisms are in full effect. All the cast are spot on, even an unlikely Amy Adams in the important Lois Lane role. I got a little lost in the finale which goes a touch too long, however this remains must see!
Shane A. Bassett
Sydney Unleashed is one of Australia's premier entertainment publications exploring the latest in lifestyle trends. From Sydney's finest restaurants, cafes and bars to the hottest in gadgets, products, and home entertainment, Sydney Unleashed is your one-stop lifestyle platform.