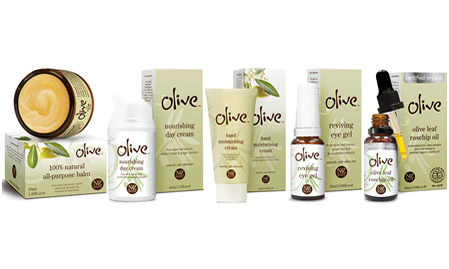 Olive natural skincare officially launches in Australia, with its roots planted on a proud family owned olive estate in the lush Bombay Hills of New Zealand. The natural active and botanical ingredients harness centuries of Mediterranean history combined with modern science to help Australians and New Zealanders alike receive the best in beauty treatment and skincare remedies.
It is the first comprehensive natural skincare range from New Zealand available in Australia that recognises the potential of olive oil in curing common skin problems. The range features products for the face, hair and body, which are all gentle to the user and the environment. The signature ingredients, extra virgin olive oil and olive leaf extract are both produced on the
Simunovich Estate and are naturally loaded with powerful antioxidants and vitamins, delivering moisture and firmness while protecting against the harmful effects of external elements such as sun and water. It is high in anti-viral, anti-fungal and anti-bacterial properties, while aesthetically improving the elasticity of the skin.
Donna Simunovich, Director of Simunovich Olive Estate, said: "We offer the simple promise that our skincare is natural, safe and effective for the whole family. We guarantee ingredients of the highest quality used in our skincare. Our olive oil production is controlled and monitored by our professional team, from the planting and growing through to the harvesting."
Olive is capturing the highest quality olive oil and natural ingredients with its hero products:
Best-seller: Olive Hand Moisturising Cream
A combination of plant extracts with the Estate's own extra virgin olive oil and spring water that work together to create a non-greasy formula perfect for all skin types. (RRP: $14.95)
Trending: Olive Leaf Rosehip Oil
This product maximises the benefits of Rosehip by combining it with olive leaf extract giving it deep hydrating abilities, powerful antioxidants and promotes cellular regeneration. (RRP: $22.95)
Must-have: 100% Natural All Purpose Balm
An effective barrier against blemishes, dry lips, hand, cuticles and all round skincare, perfect to keep in your bag for those on the go. (RRP: $22.95)
For everyday: Olive Nourishing Day Cream
This day cream is lightweight and antioxidant rich lasting all day long. With a combination of natural plant oils with extra virgin olive oil, it leaves dry, tired skin feeling smooth and conditioned. (RRP: $29.95)
For everyone: Olive Reviving Eye Gel
With cucumber and chamomile extracts, this eye gel is perfect for the delicate skin around your eyes. The olive leaf extract ingredient improves elasticity to keep eyes looking vibrant. (RRP: $28.95)
Kate Robertson, Olive's Medical Herbalist and Technical Advisor, said: "Olives have been used to promote health and beauty in the Mediterranean for centuries. Scientific research now shows that extra virgin olive oil is recognised for its nutritional benefits, and its natural ability to deeply moisturise, soften and replenish the skin. Olive leaf extract contains potent antioxidants which can protect and assist in the natural regeneration of skin cells."
The Simunovich Olive Estate, located 50 kilometres from Auckland City, produces premium quality extra virgin olive oil and is home to the Olive skincare range. The Simunovich family first began cultivating the olive on the beautiful island of Brac, Croatia. The affordable skincare range also includes a men's range called, Tebe, and Olive Baby for precious little ones.
Olive skincare is available from Terry White Chemists, Discount Drug Stores and other leading pharmacies.
Sydney Unleashed is one of Australia's premier entertainment publications exploring the latest in lifestyle trends. From Sydney's finest restaurants, cafes and bars to the hottest in gadgets, products, and home entertainment, Sydney Unleashed is your one-stop lifestyle platform.