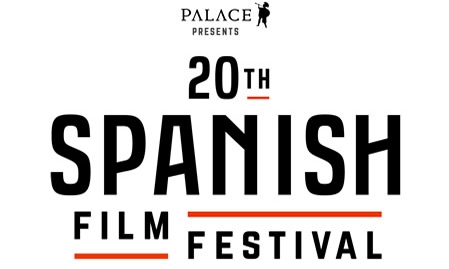 Discover 'REEL INSPIRACIÓN' as the Spanish Film Festival (SFF), playing exclusively at Palace Cinemas around Australia, reveals the thrilling program for its 20th birthday edition.
The program includes a starstudded line-up of films, featuring performances by Penélope Cruz, 2013 festival guest Maribel Verdú, and Steve Coogan and Rob Brydon in a new instalment of The Trip, along with the Berlinale award-winning film SUMMER 1993, a focus on flamenco dancing, and a retrospective on iconic actress, singer and director, Ana Belén. Showcasing 39 films, the festival invites audiences to indulge in almost three weeks of Spanish culture on the big screen.
Adding to the exciting film line up, Sydney based celebrity chef Miguel Maestre joins the party as this year's Festival Ambassador, celebrating his Spanish roots and bringing along his flair and passion for food. The festival is also delighted to welcome Natalia De Molina, the star of the festival's opening night film KIKI, LOVE TO LOVE, as this year's festival guest. Winner of the Spanish Goya for her role in previous SFF 2014 opening night favorite, Living is Easy with Eyes Closed, and the winner of 2015's Goya for Best Lead Actress in Food and Shelter (SFF 2016), Natalia has cemented herself as a star on the rise, set to take Spanish cinema by storm.
The festival will open with the sexy and daring Spanish box office hit KIKI, LOVE TO LOVE (KIKI, EL AMOR SE HACE). Told through five stories, as a scorching summer heatwave intensifies the desires of a collection of Madrid lovers, this award-winning comedy is adapted from Josh Lawson's film, The Little Death. With critics drawing parallels between the film's director Paco León and acclaimed Spanish auteur Pedro Almodóvar, it's an opening night film not to be missed. Festival guest and star of the film Natalia de Molina (Living is
Easy with Eyes Closed SFF 2014) will also be in attendance. Opening night ticket holders are invited to dance the night away with a post-film celebration featuring Torres Wines, Stella Artois and tapas in each city.
The festival will close with THE TRIP TO SPAIN, directed by Michael Winterbottom and starring the always hilarious Steve Coogan and Rob Brydon, who reunite in the third chapter of the hugely popular series, The Trip. Picking up where they left off in The Trip to Italy, with semi-fictional, spouse-free raconteurial ramblings and impressions of Michael Caine, the duo takes a sun-drenched tour of some of the best restaurants in Spain for the UK's Observer. Post screening, closing night drinks will be provided by Torres Wines and Stella Artois.
The already announced THE QUEEN OF SPAIN (LA REINA DE ESPAÑA), from Oscar winning director Fernando Trueba and starring Penélope Cruz as a 1950s Hollywood film star returning to Spain, will be featured as a Special Event screening – accompanied by a glass of premium Lolea Sangria and Spanish tunes on arrival at the cinema.
In Melbourne and Sydney, the festival is also proud to present Special Event screenings of SARA BARAS, ALL HER VOICES (SARA BARAS, TODAS LAS VOCES). Sara Baras is a living legend in Spain, a diminutive dancer with an unparalleled skill and passion for flamenco. This documentary takes us inside the preparation for her acclaimed 'Voices' flamenco world tour. The film screens as part of the REEL FLAMENCO section of the program. This event will include a glass of Freixenet cava on arrival and flamenco tunes, followed by an introduction by Festival Ambassador Miguel Maestre.
The REEL FLAMENCO section of the program is set to electrify with screenings of FLIGHT OF THE GUITAR: DREAMING OF PACO DE LUCIA (LA GUITARRA VUELA: SOÑANDO A PACO DE LUCÍA), which focuses on 'La Maestro', Spanish musician Paco De Lucia, and his self-designed guitar; JOYA: BEYOND FLAMENCO (LA JOTA), the new film from legendary Spanish filmmaker Carlo Saura (Carmen, Tango), captures the vivacity and charisma of the jota, a waltz-like castanet dance; and 13. MIGUEL POVEDA, a behind-the-scenes expose and tribute to one of Spain's most famous flamenco singers, celebrating his 25-year career.
The CENTREPIECE film SUMMER 1993 (ESTIU 1993), was the critical breakout at this year's Berlinale, taking out the Best First Feature prize. Telling the moving tale of a six-year-old orphan girl, the film is delicately crafted by Catalan director Carla Simón and marks the arrival of a major new voice in world cinema.
The REEL INFANTIL section delivers kids films that will provide fun for the whole family. Selections include the fun and fantastical adventure film ZIP & ZAP & CAPTAIN'S ISLAND (ZIPI Y ZAPE Y LA ISLA DEL CAPTÀN), which follows two mischievous brothers on a mysterious remote island adventure; and the adorable animation OZZY, about a friendly beagle which has his idyllic life turned upside down when his family goes on holidays to Japan – where no dogs are allowed! Both films will screen during family timeslots.
Highlights from the REEL ESPAÑOL section include THE BAR (EL BAR), an offbeat thriller from cult director Alex de la Iglesia (Witching and Bitching, SFF 2014), about a motley group of people trapped in a bar; MAY GOD SAVE US (QUE DIOS NOS PERDONE), featuring Roberto Álamo in his Goya award-winning role, as one of two detectives tasked with discretely tracking down a killer amongst a million tourists in mid-summer Madrid; and SMOKE AND MIRRORS (EL HOMBRE DE LAS MIL CARAS), from the director of Marshland (SFF 15), is the incredible true story of a man who fooled an entire country: the shadowy, ingenious Francisco Paesa.
This year's ANA BELÉN retrospective pays tribute to a multi-talented actress, singer and director who has recorded more than 35 albums and appeared in more than 40 films and 30 theatrical productions across her career. The program will include three of Ana's earlier films: TORMENT (TORMENTO – Pedro Olea, 1974), DEMONS IN THE GARDEN (DEMONIOS EN EL JARDÍN – Manuel Gutiérrez Aragón 1982) and THE HOUSE OF BERNARDA ALBA (LA CASA DE BARNARDA ALBA – Mario Camus, 1987), all screening in 35mm courtesy of the Instituto Cervantes.
And finally, a special screening of FROM ROSENDO TO ROSENDO (DE ROSENDO A ROSENDO) – presented by the Embassy of Spain in Canberra – will tell the tale of the enigmatic 19th century Spanish monk, Rosendo Salvado, through the eyes of a Spanish rock star, also called Rosendo.
There will also be a special Q&A screening of BROKEN (ROTAS) in Melbourne, presented by the Consulate General of Spain in Melbourne. The film adaptation of a Spanish theatrical and flamenco dance production, the work interweaves real testimonials from survivors of domestic violence with dance.
Tickets for the Spanish Film Festival (2017) are on sale now. Dates are:
NSW Tues 18 April – Sun 7 May Palace Verona, Palace Norton Street
ACT Wed 19 April –Sun 7 May Palace Electric
VIC Thurs 20 April – Sun 7 May Palace Cinema Como, Kino Cinemas, Palace Westgarth & The Astor Theatre
WA Thurs 27 April – Wed 17 May Cinema Paradiso
QLD Thurs 27 April – Sun 14 May Palace Barracks & Palace Centro
SA Wed 26 April – Sun 14 May Palace Nova Eastend
TAS Thurs 11 May – Wed 17 May State Cinema
Sydney Unleashed is one of Australia's premier entertainment publications exploring the latest in lifestyle trends. From Sydney's finest restaurants, cafes and bars to the hottest in gadgets, products, and home entertainment, Sydney Unleashed is your one-stop lifestyle platform.