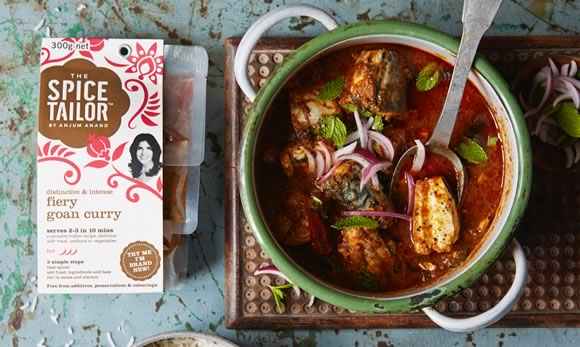 The Spice Tailor: Winter Warmer Recipes
Winter has arrived and The Spice Tailor have the perfect recipes to warm everybody up. Created by the incredible UK based Indian chef Anjum Anand, The Spice Tailor prides itself on healthy meals that are authentically Indian tasting and super easy to cook with their three-step process.
Anjum's career is centred around her passion to showcase real Indian food and flavours. She's always wanted to dispel the myth that the cuisine is unhealthy and wanted to see it being prepared by everyday home-cooks. As her life got busier with children and work, she realised that there were no acceptable shortcuts to help her on busier days.
The products in the supermarkets didn't represent the real flavours she grew up with and they were full of nasties that she didn't want to feed her family. So, she decided to create her own range of meal kits that tasted home-made, were quick and easy to prepare and were free of any artificial additives. Ultimately, she wanted to take Indian food beyond the old-fashioned ideas of take-ways and jarred sauces and create a better home-cooking experience, resulting in versatile, healthy and altogether delicious Indian meals.
Anjum has whipped up some delicious winter warmer recipes including classics such as the Slow Cooked Karnataka Pork curry, Classic Butter Chicken, Goan Pork Curry and the amazing Spicy Goan Mackerel Curry. Here are some tips on how to make this bad boy at home.
Spicy Goan Mackerel Curry
– 1 tsp. vegetable oil
– 1 packet The Spice Tailor Fiery Goan Curry
– 2 small-medium mackerel, cleaned, gutted and cut into 11/2 steaks
– Handful of fresh coriander
Heat the oil in a small-medium sized non-stick saucepan. Add the spices from the spice pouch, only adding the chilli if you really love the heat. Cook for 10-15 seconds. Add the both the sauces from the packets and a splash of water and bring to a simmer. Add the fish, bring back to a boil then turn the heat down and cook gently until the fish is cooked through, around 10-15 minutes. Shake in the coriander and serve with rice.
That's all there is to it! So go ahead, grab some packets of the Spice Tailor from your local supermarket and make someone's day.
Sydney Unleashed is one of Australia's premier entertainment publications exploring the latest in lifestyle trends. From Sydney's finest restaurants, cafes and bars to the hottest in gadgets, products, and home entertainment, Sydney Unleashed is your one-stop lifestyle platform.