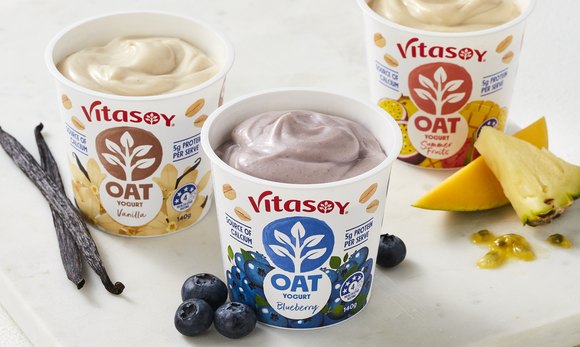 Vitasoy launches new range of delicious fortified Oat Yogurts
Market leading Australian plant-based Oat milk brand, Vitasoy, has just unveiled its latest range of new plant-based products – Oat Yogurts. Made in Australia, with Australian grown oats, the new Oat Yogurt range is available in three scrumptious flavours including Blueberry, Vanilla, and Summer Fruits. Perfect on their own or as an addition to your favourite food, the Oat Yogurts are nutritionally fortified with protein and calcium, are creamy and most importantly, tasty.
Packed with a diverse range of vitamins and essential minerals, oats can be rightfully claimed as a champion superfood. "Oats are nutritional powerhouses hosting numerous functional benefits that have been well documented. By combining the soluble fibre present in oats, known as Prebiotics, with live cultures found in fermented products known as Probiotics, we have curated the ultimate duo to support gut health," says Belinda Dib- Accredited Practising Dietitian, Vitasoy Australia. "Vitasoy's Oat Yogurt is also nutritionally fortified with high quality plant-based calcium, vitamin B12, vitamin D and protein. We have created a nutritionally balanced option that rivals its dairy counterparts."
Vitasoy's fortified Oat Yogurt range contain beta glucan, calcium, protein and Vitamins B12 and D, and contribute to normal energy metabolism and immune system function. Vitasoy's Oat Yogurt products hold a 4 Health Star Rating making them an excellent choice for those seeking a healthy and delicious start to the day, a nutritious snack or used as an ingredient in other meals, such as smoothies, pancakes or breakfast bowls. The new oat-based yogurts have the same classic dairy-based texture, with a thick, smooth and creamy consistency.
"As the number one brand in Oat Milk, our ambition was to create a plant-based yogurt that makes it easier for people to reach their recommended daily intakes, while tasting delicious. We have fortified this recipe with calcium, protein, vitamin D and vitamin B12, which are particularly important in a vegetarian or plant-based diet. We really think we've cracked the code on plant-based yogurt and are very proud of our 4 health star ratings across the range," says Belinda.
Whether you're a health enthusiast, or just want to lead a healthy lifestyle, Vitasoy's Oat Yogurt delivers on taste, texture and nutrition, offering a step towards nourishing your body.
Vitasoy Oat Yogurts are available at select Coles Supermarkets nationally, and include Vitasoy Oat Yogurt Vanilla 140g, Vitasoy Oat Yogurt Blueberry 140g and Vitasoy Oat Yogurt Summer Fruits 140g (RRP $3.00).
Sydney Unleashed is one of Australia's premier entertainment publications exploring the latest in lifestyle trends. From Sydney's finest restaurants, cafes and bars to the hottest in gadgets, products, and home entertainment, Sydney Unleashed is your one-stop lifestyle platform.