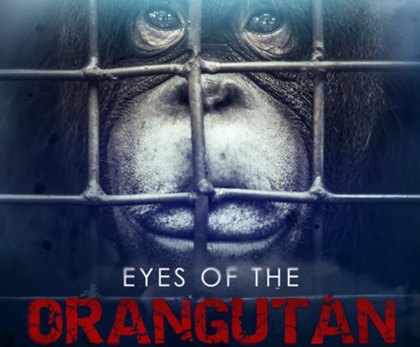 'Eyes Of The Orangutan' Exclusive Showing
GREAT APE EXPERTS CALL ON AUSTRALIA'S HELP
Wildlife tourism is a $250 billion dollar-a-year industry. Unfortunately, these profits don't come without severe costs.
A world-leading Orangutan expert will fly into Australia in a bid to garner the nation's support for what they say is a critical and urgent fight to save the great apes from extinction.
Key local and international figures from the eminent animal welfare organisation, Borneo Orangutan Survival (BOS) Foundation, will hold a Q&A in Sydney to shed light on the orangutans' plight while reporting on the Foundation's recent success with its orangutan "school" and orangutan rehabilitation.
An exclusive showing of the powerful documentary 'Eyes of the Orangutan*' from award-winning environmental photojournalist Aaron Gekoski will be followed by a Q&A session held by Dr Jamartin Sihite, CEO of the BOS Foundation, and Lou Grossfeldt, Vice President of BOS Australia and an internationally acclaimed primate expert and author.
With only around 57,000 wild Bornean orangutans estimated to be left in the wild, they face many threats, with habitat loss through deforestation and forest fires, illegal hunting and illegal wildlife trade being the main threats to their wellbeing, survival, and population. All orangutan species are critically endangered, facing an extremely high risk of extinction in the wild. 
Dr Sihite, who has spent much of his career protecting the survival of orangutans, says Q&A provides the ideal opportunity to learn more about this amazing species (which shares 97% of our DNA).
The largest and arguably most successful great ape conservation program in the world, BOS's "rehab and release" program has forged a major breakthrough in the fight to save the critically endangered orangutans of Borneo, with more than 500 "graduates" of the orangutan school having been rehabilitated and released successfully back into the wild.
As part of an ongoing and urgent effort to raise the funds to release more rehabilitated orangutans, BOS is hosting three exclusive screening events of 'Eyes of the Orangutan' in Australia and New Zealand, in Sydney on 5th July 2023, Melbourne on 7th July, and Auckland on 12th July 2023.
"These great apes will be extinct in the wild if the trend in deforestation for logging, mining, palm oil plantations, settlements and cash crops continues," says Dr Sihite.
"Trying to fight against this threat, our non-profit Forest School has hundreds of orangutans in various stages of 'education', with many already eligible for release, but we can't continue this important work without ongoing support".
WHEN & WHERE:
Wednesday 5th July, 6pm
Dendy Cinemas, 261 – 263 King Street, Newtown, Sydney 2042 NSW
COST: 
Tickets are available here. General admission tickets $35.
All proceeds will go to Borneo Orangutan Survival Foundation.
Image: Aaron Gekoski
For more information visit: Orangutan Survival – Rescue and Rehabilitation – BOS Australia
Sydney Unleashed is one of Australia's premier entertainment publications exploring the latest in lifestyle trends. From Sydney's finest restaurants, cafes and bars to the hottest in gadgets, products, and home entertainment, Sydney Unleashed is your one-stop lifestyle platform.