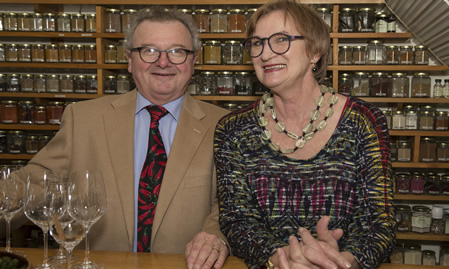 Ian "Herbie" Hemphill's obsession with spices began when his parents, John & Rosemary Hemphill pioneered the awareness of herbs and spices in Australia in the 1950s. Since then, Ian has continued the spice tradition, and after years in the corporate world it was a logical step for Ian to bring a new spice experience to Australians, assisted by his wife Liz, who lays claim to a 45-year apprenticeship with the expert.
Herbie's strategy was to have the largest range of culinary herbs and spices and spice blends of the very best quality. In addition, his mission was to educate cooks and de-mystify the world of spices, so consumers from every walk of life could understand and enjoy them in their daily meals.
Having sold their house to buy the red, century-old terrace house in Rozelle that is now Herbie's Spices, Ian & Liz lay awake upstairs on the night before opening 18 years ago, with comments ringing in their ears such as "A spice shop, you must be crazy!"
On the 7th of July 1997, Ian & Liz Hemphill opened Herbie's Spices in the Sydney suburb of Rozelle. Herbie and Liz thought that living above a little spice shop, making spice mixes at night and taking turns packing, would keep them happily occupied into their dotage.
The result could not have more different to what they imagined! Those early months of sleepless nights were unfounded, as Australia's interest in foods and ingredients from diverse cultures took hold. For Herbie & Liz, one of the most rewarding and satisfying aspects of their business is the relationship they have with their customers, whether in the shop, online, through specialty food stores or restaurants and caterers. A common thread that binds all these customers is that they are involved in and care about food. "And it is the food that they wish to share with others, not a selfish endeavour, that makes our customers such pleasant people to deal with" says Ian.
Ian and Liz have written books on herbs and spices that have won awards in Australia and overseas, most recently releasing The Spice and Herb Bible, Third Edition. Herbie's Spices, under Ian's meticulous guidance, has won many awards for excellence and consistency.
Having reached 18 fabulous years, Herbie's Spices has more exciting plans ahead, including adding new products to the existing range and launching a new and refreshed website.

Sydney Unleashed is one of Australia's premier entertainment publications exploring the latest in lifestyle trends. From Sydney's finest restaurants, cafes and bars to the hottest in gadgets, products, and home entertainment, Sydney Unleashed is your one-stop lifestyle platform.