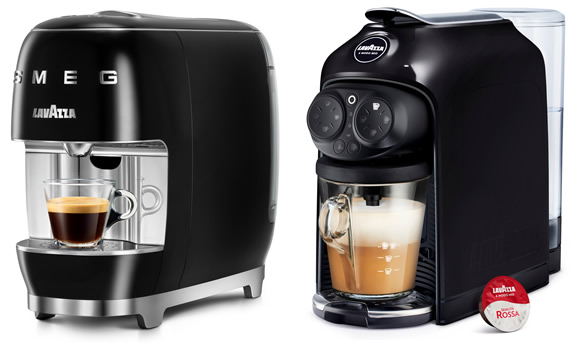 Indulge Dad this Father's Day with Lavazza A Modo Mio
Embrace the art of gifting this Father's Day, Sunday 3 September, with Lavazza A Modo Mio's refined selection of pod coffee machines. Designed to indulge your loved one with authentic Italian coffee excellence right at their fingertips.
Discover a delightful assortment of modern pod machines, thoughtfully curated to cater to diverse budgets. Immersed in the allure of premium Italian coffee, Lavazza brings the pinnacle of brilliant coffee to every kitchen.
Whether your beloved's preference is a classic long black, a velvety latte or an extra frothy cappuccino, rest assured that Lavazza's A Modo Mio system has crafted a machine tailored to satisfy the palate of every coffee connoisseur. With each pod containing 7.5 grams of pre-tamped, vacuum-sealed coffee, the range guarantees the perfect cup of coffee with every extraction.
Step into the realm of unparalleled, premium Italian coffee craftsmanship with Lavazza's A Modo Mio pod machine collection.
A MODO MIO POD MACHINE COLLECTION
Deséa (RRP $349)
Elegant and modern, Lavazza A Modo Mio Deséa is the quietest machine in the range and features an intuitive touch interface and a refined glass mug. Enjoying your favourite recipes has never been so easy.
Available in Cream and Black finish
Touch interface
Four coffee doses and five milk recipes
Temperature and froth level control
Iconic glass mug
Coffee pod drawer alert
Smeg (RRP $349)
Designed for the style aficionado – the machine is inspired by the Golden Age of the 1950s, combining Italian design, award-winning style and enduring performance made for coffee connoisseurs. With its unique design and advanced technology, the Lavazza A Modo Mio Smeg machine is the perfect union of Italian style.
Available in Cream Ivory and Jet Black
Single touch function for traditional or long espresso
Removable dishwasher-safe components
Adjustable cup rest removable for longer coffees
Voicy (RRP $349)
Lavazza A Modo Mio Voicy is the first espresso coffee machine with built-in Amazon Alexa technology. Music, news, weather updates and much more. With Voicy, you've got the entire Amazon Alexa world at your command. An innovative experience that allows you to enjoy a real Italian espresso, custom tailored to your personal preferences.
Available in Black
Alexa smart-home integration
Removable dishwasher-safe components
Automatic pod collection drawer holds 10 empty pods
Water tank capacity 1.1L
Empty water tank alert
Adjustable cup rest (2 heights)
Jolie&Milk (RRP $249)
Jolie&Milk is ideal to prepare a variety of original Italian coffee recipes with your choice of milk. Enjoy the authenticity of the unique Lavazza taste with perfectly frothed milk.
Available in Black
Integrated frother
Two programmable selections
Removable grid, i.e. bottom plate for cup height
Coffee pod drawer alert
A MODO MIO COFFEE POD COLLECTION
The A Modo Mio machine range pairs with the Lavazza A Modo Mio coffee pod collection, which in true barista style comes with a full 7.5 grams of pre-tamped, vacuum-sealed coffee. Unlike alternative pod brands, Lavazza's pre-tamped coffee allows water to pass through each pod more evenly to enhance texture, flavour and quality.
With a range of intensities, flavour and aroma profiles, the collection has the perfect roasted blend to satisfy every taste preference.
Lungo Dolce: Sweet Asian and Central and South American Arabica with fruity notes for a smooth coffee that is appreciated Lungo-style (a long black!), in a large cup.
Intensity: 6 Delicate
Roasting: Medium
Passionale: From Brazilian, Asian and Central-South American Arabica, an intense and harmonious flavour of espresso which cannot help but boast of its slightly caramelised flavour and hints of chocolate.
Intensity: 11 Very Intense
Roasting: Dark
Qualità Rossa: From the union of natural Brazilian Arabica and Robusta, this espresso is balanced and full-bodied, with hints of chocolate and dried fruit.
Intensity: 10 Medium Intensity
Roasting: Medium
Delizioso: From Asian and Central-South American Arabica, Delizioso is a delicate espresso blend featuring soft and sweet floral notes, with an aroma enriched by hints of liqueur.
Intensity: 8 Delicate
Roasting: Medium
Intenso: From the Central-South American Arabica, Asian and African Robusta, comes a perfume of the East in an espresso with a bold, full-bodied flavour, with spicy notes and powerful aftertaste.
Intensity: 13 Very Intense
Roasting: Medium
Divino: A blend of premium Robusta and Arabica, for a velvety espresso with notes of chocolate and liqueur accompanied by hints of dried fruits.
Intensity: 11 Very Intense
Roasting: Dark
Dek Cremoso – Decaf: Decaffeinated Brazilian Arabica gives a rich espresso that is full of flavour, with notes of almonds. The Lavazza decaffeination method allows the unique characteristics of each origin to stay intact.
Intensity: 7 Medium Intensity
Roasting: Medium
To learn more about Lavazza or subscribe to claim the latest deals, visit lavazza.com.au.

Sydney Unleashed is one of Australia's premier entertainment publications exploring the latest in lifestyle trends. From Sydney's finest restaurants, cafes and bars to the hottest in gadgets, products, and home entertainment, Sydney Unleashed is your one-stop lifestyle platform.