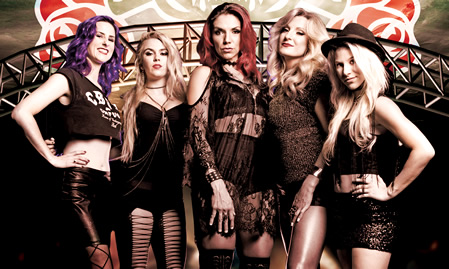 Paradise Kitty: Interview with Rachael Rine
What a wonderful enriching talent Rachael Rine is, currently preparing for an Australian tour with acclaimed Guns N Roses all female tribute extravaganza Paradise Kitty. Even though this brilliant drummer has not seen one of the best drumming films of any era (Whiplash), Rachael Rine assures me it's on her 'to do' list.
Shane A. Bassett – What's the origin of the band name?
RR – One of the first people we spoke to when trying to get the band together kind of had a really horrific idea for a band name through a group message so I had to come up with something quick (laughs). Because her idea was extremely embarrassing, putting my foot down declaring: No, that will not be the name.
Are you only a drummer or can you play various instruments? Have you written your own original tunes?
RR – Little bit of piano, guitar, minimal amount of bass. Absolutely I write, when I was in a band with another great name (Cockpit), we released an album. I am working on another musical journey writing up a storm with another band (unnamed at this point).
Would writing a movie musical or rock opera soundtrack be of interest?
RR – Never written for that type of thing but did work in a recording studio for a while where tons of that was set down so I know enough to say I can't just decide: Hey I want to write a soundtrack! It's an art form, technical process beyond a whim. Maybe at some point for me.
Why a Guns N Roses tribute, were they a favourite band or influence?
RR – Friend called me wanting to start a GNR tribute band, am i interested? It was perfect timing knowing the reunion was happening before it had been announced. It fell into place as a musician going on gut instinct, right place right time. My ground rules: #1 no stupid band names (laughs), #2 no wearing wigs or dressing like them. People know who I am as a drummer outside of this band and my singer Jenna, #3 nothing campy or cheesy – let's get out there as ourselves to have a great time.
Have you had approval from the band themselves or management?
RR – Yes absolutely. Knowing this band wouldn't be anything without approval from them. My rehearsal drum room is right across from where Slash rehearses while his band members are old friends and done tours with Steven Adler. People don't realise how much of a small town LA is, we all know each other. Duff joined us in Cockpit sometimes too. It was important to have their OK, I was worried about Axl not being cool with it. We put together some girls, rehearsed our butts off, got together on our own then played a show to test the waters if it was right. Once Axl saw video of us from that first show, he tweeted about us within the week.
You look sensationally flawless every time on stage, what's your secret?
RR – God bless you Shane (laughs). Touring is tough, not easy. The key is being happy to look fantastic or loving yourself. Without those things, if you're in an office or any particular job you won't radiate positivity. It's important to have fun in life too, enjoying yourself, being respectful, no ego. Drinking lots of water is important, hydration is happiness.
Those nails of yours are always immaculate. How do they not break?
RR – (laughs) If you saw them right now (laughs), I'm not sure how I do what I do with unbroken nails. People often ask but no answer for that other than having a really good nail girl. My hard gels last about a month. Most of our shows are provided backlines so I adjust a couple of things then sit down and play. If I take my own drum kit, I'll cut them down to the bone as not to chance ripping them off my hand.
Around how many drum kits do you own?
RR – Only two. My first was after putting money down at the music store after bussing tables using tips every day to pay it off. I looked at it at home and thought, I will play this kit until I get an endorsement from DW drums. I knew nothing, not even what DW drums was (laughs), I couldn't even put it together. Sticking to that theory for many years, I drummed away, about five years ago I received a call from Crush drums. They asked me to be their first female on their roster. Living in London at the time, I saw the love for their product and preciseness, it still took me a long time to accept the offer. I knew eventually they were the drums for me and have this beautiful amazing ash drum kit but breaks my heart I rarely use, most gigs provide my drums.
What do you know about the Australian music scene?
RR – None of us have been in Australia before, we are excited. What I know is every single one of my friends who tour globally have said their favourite, hands down across the board, place to play is Australia. Naturally I'm thrilled, my Aussie friends are some of the sweetest honest rock and roll people on the planet. To me that combination sounds amazing, even better to meet the audience, throw back some beers, get wild (laughs). Enjoy it all.
Who were your musical influences starting out?
RR – I couldn't tell you what was what on the drum kit beginning my journey but my inspirations to even buy that kit were Tommy Lee and a real huge inspiration was Randy Castillo. We came from the same area in New Mexico, an area not many people leave after growing up there. In grade school, I was thinking to myself:  That guy from Albuquerque (Randy) is playing with Ozzy Osbourne. So if he can do that, I can do anything, I am not limited. At a young age, he inspired me unknowingly to put my mind to things and achieve. Moving to LA, we became good friends. RIP, I miss him.
Have you ever had a wardrobe malfunction on stage?
RR – Yes Shane (laughs). On tour one night in Texas, a photographer and his wife – they're friends of mine – but told her not to let her husband get on stage because I wore the wrong bra with that top. She laughed but nothing serious eventuated, I've been lucky. Jenna has had shows splitting pants.
What can Australian audiences expect from Paradise Kitty in concert?
RR – You never know who may join us on stage, we love guests jumping up with us. We are fans like everyone in the audience. It remains important to us to connect with crowds, have a good time with them. We bring a party, a good night to forget your bad day and rock out with us, pure rock and roll.
Can we expect deep cuts as well as the hits?
RR – Absolutely, I will tell you not to expect any songs with heavy keys as sadly, we don't have a keyboard player on this tour. Deep cuts are still on.
How would a potential date or someone wanting to hang out get your attention?
RR – Be yourself, everyone on this planet is so different. Appreciate who you are, be genuine, not someone else. There's no room for nastiness or meanness, that tells me someone is insecure or needs more love in their lives. How one gets my attention is just be cool, it's not that hard but so many seem to have a hard time to chill. I love meeting new people, hearing life stories or interesting adventures. One of the great things about touring is hearing new things from amazing humans. Be cool, be good, be kind, we all know the differences between right and wrong. Unnecessary rudeness is out.
PARADISE KITTY LIVE ON STAGE
SYDNEY: Bridge Hotel, Sunday September 30
NEWCASTLE: The Small Ballroom, Thursday October 4
Shane A Bassett
Sydney Unleashed is one of Australia's premier entertainment publications exploring the latest in lifestyle trends. From Sydney's finest restaurants, cafes and bars to the hottest in gadgets, products, and home entertainment, Sydney Unleashed is your one-stop lifestyle platform.